Lagos – Sen. Oluremi Tinubu on Saturday said that eligible voters in Lagos State who did not cast their votes in the local government elections would not be justified to complain against local councils.
Oluremi, representing Lagos Central, said this in Lagos in an interview with journalists in her residence in Bourdillon, Ikoyi.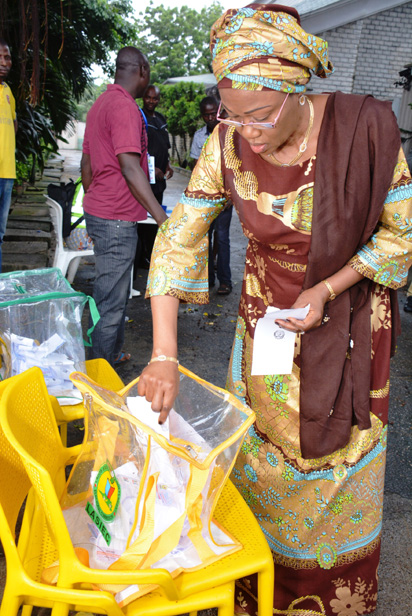 The wife of a former Governor of the State and National Leader of the All Progressives Congress, Chief Bola Tinubu, spoke with newsmen after casting her vote.
"This is the time to show solidarity for the government; we believe that this government is working; this is the time that everybody should perform his/her civic duty,'' she said.
The senator said that voting was a way to hold governments accountable.
"It is not for you but for your generation yet unborn so that things can be put in place.
"We have set the standard in Lagos; every elected candidate does not have any choice but to work,'' she said.
She said that she had been working as a people's representative for the past six years and would continue to do so till the end of her tenure.
Mrs Tinubu commended the Lagos State Independent Electoral Commission (LASIEC) for efforts in conducting the polls.
"LASIEC has done well; security personnel are on ground ensuring that there is peace and order.''
Also, the Secretary to the Lagos State Government, Mr Tunji Bello, who voted at Ward E, Olonade Street, Yaba LGA, commended voters who turned out in spite of the downpour.
"Voters have shown support for democracy by coming to vote in spite of the rain.
"Starting the election behind schedule is understandable due to the downpour; it is impressive.
"I believe that APC will carry the day,'' he said.
Mr Jide Jimoh, representing Lagos Mainland in the House of Representatives, told journalists that the elections had been peaceful.
"The election process is fantastic so far, and I commend the Lagos State Commissioner of Police for that.
"I won't want to make any judgment on LASIEC because we are just starting. Taking off does not matter; it is landing that is the most important thing.
"We have taken off; at the end of the day, we will see the result. I expect a positive result,'' he said. (NAN)