……as FG gets nod to produce witnesses
By Ikechukwu Nnochiri
ABUJA – The Federal High Court in Abuja, on Tuesday, fixed October 17 to begin full-blown hearing into the treasonable felony charge the Federal Government entered against the leader of the Indigenous People of Biafra, IPOB, Nnamdi Kanu.
FG is prosecuting Kanu alongside three other pro-Biafra agitators- Chidiebere Onwudiwe, Benjamin Madubugwu and David Nwawuisi.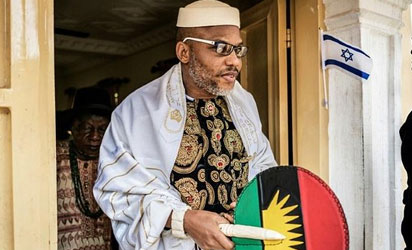 Their trial which was originally billed to commence this week, was shifted till October considering that the high court has embarked on its annual vacation.
The prosecution had in the charge marked FHC/ABJ/CR/383/2015, alleged that Kanu, being the leader of IPOB, conspired with his co-defendants and others now at large, on diverse dates in 2014 and 2915, in Nigeria and London, to broadcast on Radio Biafra monitored in Enugu and other areas, preparations for states in the South-East and South-South zones and other communities in Kogi and Benue states, to secede from the Federal Republic of Nigeria, with a view to constituting same into a Republic of Biafra.
The defendants were said to have committed an offence punishable under section 41(c) of the Criminal Code Act, CAP. C38 Laws of the Federation of Nigeria, 2004.
Though trial Justice Binta Nyako had in a ruling on April 25 released Kanu on bail after he had spent a year and seven months in detention, the court however okayed his co-defendants to remain in prison custody.
Justice Nyako said her decision to release Kanu who is the 1st defendant, on bail, was on health ground.
She cited an affidavit that was attached to a bail application Kanu filed through his lawyer, Mr. Ifeanyi Ejiofor.
However, the IPOB leader was compelled to produce three sureties, including "a jewish leader" and a "highly placed person of Igbo extraction", who all deposited N100million each before he was granted temporary freedom by the court.
He was formally released to Senator Enyinnaya Abaribe, a Jewish High Chief Priest, Immanuu-El Shalom and a Chartered Accountant residing in Abuja, Mr. Tochukwu Uchendu, on April 28.
As part of his conditions for bail, Kanu was expressly barred by the court from attending any rally or granting any form of interview.
"I must stress it here that the defendant must not attend any rally. He must not be in a crowd exceeding 10 persons", the Judge warned.
Justice Nyako held that Kanu who was arrested by security operatives upon his arrival to Nigeria from the United Kingdom on October 14, 2015, must sign an undertaken to make himself available for trial at all times.
He was further ordered to surrender his Nigerian and British international passports, even as the court compelled FG to return to him, his wedding ring and reading glasses.
Nevertheless, Kanu's co-defendants were denied bail by the court which described charges against them as "very serious".
Justice Nyako said the fact that she earlier struck out terrorism charges FG slammed against the defendants did not water-down seriousness of the charge of treasonable felony against them.
The court had in a ruling on March 1, struck out six out of eleven count charges FG initially entered against Kanu and the others.
Six of the charges were struck out on the premise that they were not supported by the proof of evidence FG adduced before the court.
The court also rejected FG's claim that the defendants were members of an illegal organisation.
Justice Nyako said the fact that IPOB was not an organisation registered in Nigeria did not make it an illegal society.
Kanu who was hitherto the Director of Radio Biafra and Television, had through his lawyers, insisted that IPOB was duly registered in over 30 countries including the United Kingdom.
He had on December 12, 2016, threatened in the open court that he would in the course of the trial, expose secrets he said would sink Nigeria.
The defendants who are answering to a five-count charge equally alleged plot by FG to import foreigners to testify against them.
Kanu is facing four out of the five count charges.
The trial judge had earlier granted FG the nod to shield identities of all the witnesses billed to testify in the matter.
The court directed that the witnesses who are mostly security operatives would testify behind a screen or wear mask when the need arises, a decision the defendants protested against, insisting that it was wrong for the court to allow "masquerades" to give evidence against them.
While dismissing some of the previous charges against the defendants, Justice Nyako held that FG could not establish any ingredient of crime in its allegation that Kanu had between March and April 2015, imported into Nigeria a radio Transmitter known as TRAM 50L and kept it in a container that was left in custody of the 3rd defendant, Madubugwu, at Ubuluisiuzor in Ihiala LGA of Anambra State.
The court however held that Kanu has a case to answer pertaining to allegation in count-four that he lied that the Radio Transmitter was concealed in a container of used household items which the defendant declared as unused household items.
Whereas the court struck out counts 3, 6, 7, 9, 10 and 11 of the charges, it however sustained counts 1, 2, 4, 5 and 8.
The sustained charges, to which all the defendants entered a plea of not guilty to, borders on conspiracy, treasonable felony, publication of defamatory matter and Kanu's alleged importation of goods contrary and punishable under section 47(2) (a) of the Customs and Excise Management Act, Cap C45, Laws of the Federation of Nigeria, 2004.
In count three of the pending charges, FG alleged that Kanu had in a broadcast he made in London on April 28, 2015, through Radio Biafra, referred to President Muhammadu Buhari as "a paedophile, a terrorist, an idiot and an embodiment of evil".
Madubugwu was specifically accused of having in his possession at his house, one Emerald Magnum Pump Action Gun with serial number TS 870- 113- 0046, one Delta Magnum Pump Action Gun with serial number 501, and 41 Cartridges/ Ammunition, without lawful authority or licence.