——Says UPP stands for self determination
By Johnbosco Agbakwuru
ABUJA – FORMER Presidential candidate of United Progressive Party, UPP, in the 2015 elections Chief Chekwas Okorie has said that UPP will not accommodate people he described as nomadic politicians who jump from one political party to the other, saying such persons carry along with them political virus.
Chief Okorie who is also the national Chairman of UPP debunked the rumour that he was recently quizzed by the Department of State Services, DSS, over his alleged involvement in the Nnamdi Kanu-led Indigenous People of Biarfra, IPOB, agitations on independent Biafra republic.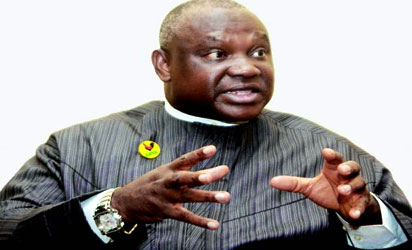 Speaking exclusively to Vanguard in Abuja, Okorie said it was laughable for one that founded and registered
a political party in the country, to be canvassing for the division of the country even though he insisted that his party believed in self determination.
He enthused that UPP was ready to take over governance in Anambra State in the forthcoming election adding that already all the major political parties like the All Progressives Congress, APC, and the Peoples Democratic Party, PDP, had been ruled out as a result of their nepotism and self inflicted internal crisis respectively.
On the possibility of bringing political heavy weight with deep financial pockets to run the election on the platform of UPP, he said, "We are not looking for big men who will come and perhaps inject virus into a very genuine platform. Some of these people you called big men are infested with political viruses and we don't go hunting for them and they can't feel comfortable with the UPP environment, they can't.
"One thing you will know and that is what is common in the Nigeria type of democracy is that after every general election, people tend to migrate from parties that did not win election to parties that won election; if we ask them they will tell you it is in search for greener pastures.
"So this nomadic political behaviour has become a culture, a way of life in Nigeria. Now you discover that when the general election ended, APC was in power, PDP people all surged into APC name them am talking about south east now, Jim Nwobodo, Kem Nnamani, Orji Uzor Kalu, Senator Agboti, Senator Nkech Nwogu, Senator Ifeanyi Ararume, Senator Andy Uba, Senator Ifeanyi Uba etc they all moved to APC.
"Who came to UPP? But we suffered our own measure of people leaving the party because we didn't win anything in our first attempt but because of our revolutionary ideological trust which began to draw attention to us, people of late began to see something that this is a party that may be addressing some of the things that bog their mind and they started coming in.
"In all the parties we have in Nigeria today, you just see people who have moved from one party to another. APDA was launched the other day it was basically PDP people mainly of Makarfi faction that launched the party but it doesn't mean it has no members from other parties.
"So, people are coming in, we have APC people in UPP, we have PDP people. In fact we have more APGA people in UPP than these parties they are talking about because they feel that it is the same founder and the same leader they had always wanted to be with before they were misled. So, the first large group of people that came to join UPP was APGA and they were quickly absolved and were given political sanctuary.
"Just of late APC people joined before a few PDP people started joining but because of the high profile nature of perhaps Chudi Offodile who had member of the House of Representatives twice under PDP platform and Osita Chidoka who had been a minister and had headed a major agency, the FRSC, it appears as if the whole PDP have joined UPP. Just two but young and popular politicians whereas APC has all the big names you can talk of in Igbo land.
"As for APC, I can tell you APC made their own members whether they are running for office or not personae non gratea. And what that simply means is that the people distanced from both their party and themselves for the simple reason that the party was the first to distance itself from the people by its act of nepotism, by its act of exclusion in important appointment including non presence of any federal project, not just in Anambra but in the entire South East and the kind of comments that emanate from leaders of the party especially the President who is now on health vacation.
"So, it would be a bad dream for APC to imagine that during the election that a rational person from the South East especially Anambra will leave his house and go to the polling station to cast his votes for APC. So APC is out of the context by its own doing. Now here you have PDP no matter how the Supreme Court eventually decides.
"One side will win and the other side will lose since they have decided that their dispute would be settled at the highest court of the land and they didn't adopt internal party mechanism to resolve their dispute. So, whichever side that wins the other will move away.
"In fact, some have started moving and one would say that even the Ahmed Markarfi side which is the larger part of PDP dissolved itself when Markarfi was reported to have said that their members were at liberty to go to other parties to seek for sanctuary for purpose of election until the matter was resolved.
"To me, that was a very irrational comment by a party Chairman who is in dispute. After all I have been in that position for a very long time and I would never have made such kind of statement. So, such statement was effectively dissolving his own side if not dissolving the entire PDP. Whatever is left of PDP would be so lean, so emaciated that it would not stand for anything.
"In addition to that, PDP was in government for 16 years and both in the South East except for Anambra, they dominated government of the South East, they are dominated national assembly, they have the federal government even the President was given an Igbo nickname Ebele Azikiwe all in attempt to make him feel he is one of Igbo people and still that did not persuade him to do anything for which he would be remembered for.
"Yes he made appointments but appointments all over the world benefit principally the individuals and their families. If he builds road poor man, big man would ride on it. If he provides infrastructure, it would benefit everybody. But when you give appointments, the children of the average person will now become children of wealthy people and perhaps start embarking on vacations all over the world and that is not something you can say it has been done for the people."