By Ikechukwu Nnochiri & Ifeoluwa Mic-Braimoh
ABUJA – Erstwhile Minister of the Federal Capital Territory, Mr. Bala Mohammed, who is facing corruption charges, on Tuesday, begged an Abuja High Court at Gudu to grant him entry into his house that was sealed-off by the Economic Economic and Financial Crimes Commission, EFCC, since 2016.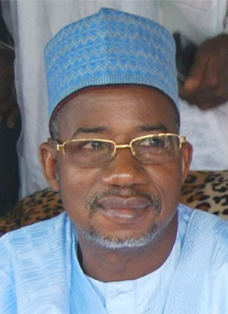 The former Minister told the court that he would like to visit his six-bedroom duplex at No1 Mariam Mukhtar Street, Asokoro, Abuja, to enable him and other members of his household to retrieve some of their personal effects.
Specifically, Mohammed who is answering to a six-count criminal charge, listed some of the items he intends to retrieve from the sealed house to include 35 sets of Babaringa, 65 pairs of shoes, over 35 boxes of clothes, bed sheets, 15 pieces of perfumes, 50 sets of leather handbags, kitchen utensils and a BMW car.
The former Minister told the court that the EFCC did not allow him, members of his family or his domestic aides to pick a single item from the said property where he resided until May 2016 when it was seized by the agency.
In the application he filed on June 7, the defendant, attached an affidavit that was deposed to by one of his domestic aides, Mr. Umar Usman who told the court that EFCC stormed and sealed-off the property without prior notification.
According to Usman, "There are numerous items belonging to the family members trapped in the property, which if not recovered would be lost and constitute a huge economic loss to the respective owners.
"That further to that, the personal effects of the defendant/applicant's children namely: Fatima Bala Mohammed, Hauwa Bala Mohammed and Maimuna Bala Mohammed are trapped in the property.
"That numerous gifts secured by the defendant/applicant's wife, Mrs. Lami Bala Mohammed in respect of her charity/humanitarian works, meant for distribution to the less-privileged during this Ramadan period are currently trapped in the property."
The defendant told the court that none of the personal items he wants to retrieve from the house have any connection with the charge pending against him.
He said that his family have been suffering a lot of hardship as a result of deprivation as a result of the impromptu action EFCC took against him.
Meantime, trial Justice Abubakar Talba fixed Thursday to hear the application, even as he deferred further hearing on the charge against the defendant till October 17.
Charges against the ex-Minister borders on allegation that he received gratifications while holding public office, as well as made false declaration of his assets.
EFCC alleged that the defendant while being the Minister of the FCT, in 2014, accepted gratification of a house worth N550 million situated at No. 2599 and 2600 Cadestral zone AO4 Asokoro district Abuja from Aso Savings and Loans Bank PLC.
The prosecution maintained that he took the house as a reward for performing his official duties and thereby committed an offence contrary to Section 18(b) of the Independent Corrupt Practices and other related offences Act 2000, and punishable under Section 18(d) of the same Act.
He was alleged to have abused public office both as a Minister and Chairman Board of Directors, Aso Savings and Loans Bank PLC.
More so, EFCC alleged that the defendant used his office and position to confer corrupt and undue advantage to his associates by allocating four fully detached duplexes and eleven semi detached duplexes valued at N314million through the Presidential Task force on sale of government houses to them.
The offence according to EFCC is punishable under Section 19 of ICPC Act 2000.