By Chidi Nkwopara
OWERRI—Five members of a family died after a meal in the sleepy rural Umuokpara Umanu, Obollo community in Isiala Mbano Local Government Area of Imo State.
The deceased are Mr. Vitalis Nwosu, his wife, Obianuju, and their three children, Chinonso, Chinasa and Odimnobi.
Vanguard gathered that Mrs. Obianuju Nwosu served the family jollof rice, which she prepared for dinner, and not long after they started experiencing stomach ache, stooling and vomiting.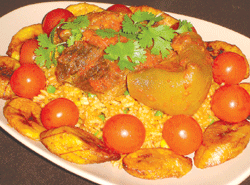 A villager recounted the incident: "The children were the initial complainants and their parents quickly moved them to a nearby private hospital (names withheld). Every effort made to save them failed as they died one after the other."
According to reports from the community, Mr. and Mrs. Nwosu later came down with the same symptoms and were rushed to a hospital in Owerri, but they also died.
A villager noted that two other members of the family, who also took part in the meal survived, adding that "the remains of the deceased have been deposited at Adam Mortuary, Ugiri."
Reacting to the incident, the deceased's first son, Mr. Chukwuemeka Nwosu, told newsmen that he was not at home when the incident occurred.
While urging the security agencies to thoroughly investigate the incident, Chukwuemeka also said that he suspected foul play.
He alleged that his parents and siblings must have been poisoned by a relation over a protracted family matter.
Although the traditional ruler of Amaukwu autonomous community, Eze Akwagbulem G. Anayochukwu, was not at home when Vanguard visited, a man close to the palace confirmed the incident.
He also confirmed that the royal father had visited the Police and the family.