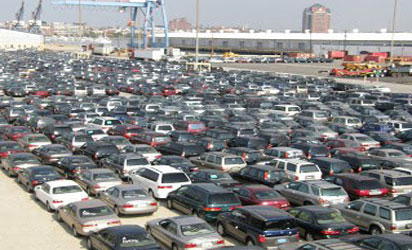 Tokunbo (used) vehicles at the Apapa port…buyers nowhere in sight
…25 start operations
DIRECTOR, Policy and Planning Department, National Automotive Design and Development Council, NADDC, Mr. Luqman Mamudu while responding to Vanguard INSIGHT inquiries on how far the Council had gone with the auto policy, informed that 49 licenses have been issues to automobile manufacturers in the country to assemble vehicles of all kinds. But he noted that only 25 of them have so far been able to commence operations.
He also spoke on what the Council is doing on auto financing for prospective vehicle buyers, what it is doing to boost patronage of locally produced vehicles, duration of license offered assemblers, among others. According to him, there is on-going discussion with stakeholders on the launch date for auto finance scheme for locally-made vehicles.  "This is still very much in the front burner," Mr Luqman said.
He also noted that despite the hard times, the plants are still working to produce vehicles for local consumptions. "No plant has been shut down and we have no information about any assembler with crippling inventory of unsold vehicles. They can't even meet orders," he stated.
Continuing, he said: "We are just evaluating data obtained during our recently concluded Monitoring and Evaluation exercise on the sector
". He further explained that emerging result shows a drop in operating capacity from 11,332 units assembled   in 2015 to 10,673 by end of 2016. "Operation capacity went south definitely, but this is only by a mere 5.8% . I say mere   because the sector was starved of forex which is critical to import knocked down kits.
The industry should be given kudos for this performance. From the half year report of 8,473 vehicles produced by June 2017, it is possible that something near the growth in capacity experienced from 2014 to 2015, about 57% (4776to 11332), may happen this year. It is also important to note that the industry continues to attract new OEMs during the period between 2015 to 2017, and so far no OEM revoked a technical license. Companies like Dangote with a world class CKD truck plant, entered the industry in partnership with Sinotruck of China, while Globe Motors signed a technical agreement with Hyundai motors and civil works of CKD for several companies are ongoing.
"The industry is on the upbeat in spite of all odds. We are definitely sure that with the imminent passage of the NAIDP bill, the integration of NARP portal with the Nigerian Customs Trade portal to check smuggling and the launch of the automotive credit purchase scheme this year, the industry will experience massive FDI and growth in output .
Employment is looking good as well. From 745 employed in the industry in 2014, we have 4,813 as at end of 2016. We have every reason to continue to support this industry, " Mr Luqman informed.
On what the Council is doing to boost local patronage, he said: "The policy itself offers locally assembled vehicles as a better option; they are cheaper compared to what you import as FBU since local assembly has tariff protection. However, we have a working relationship   with the Bureau of Public Procurement, BPP, such that only automotive bonafide assemblers recognised by us are considered in Federal Government contracts. The current Executive order on patronage reinforces this strategy.
Asked what the duration of license offered to assemblers is, he said: "This is usually for one year, though renewed on recommendation by Council. The whole idea is to give Council the opportunity to evaluate operations and compliance with terms of license.
However, some stakeholders have questioned the duration, insisting that it should be of longer tenure. The NAIDP is subject to periodic reviews".
On the number of assembly plants in the country and the number of vehicles built locally, he informed that "we have issued 49 licences as at 2016 but only 25 have been able to commence operations. Most of the rest are at various stages of building their facilities. These include KOJO Motors building a plant to assemble Yutong Buses, Globe Motors building a plant to assemble hyundai as well as Caledonian Motors, Metropolitan Motors, etc.