By Johnbosco Agbakwuru
ABUJA – ACTING President, Prof. Yemi Osinbajo Tuesday warned that the Federal Government will deploy its apparatus against any group of people that threatens the territorial integrity and oneness of the country.
Prof. Osinbajo who gave the warning in his opening remarks at the ongoing consultative meeting with the traditional rulers from the 19 northern states at the Old Banquet Hall, Presidential Villa, Abuja, also stated that the government will not take the diversity of the country for granted.
The Acting President advised the royal fathers to counsel the misguided elements among the youths against ethnic confrontation and carless throwing of words without minding the repercussions.
He noted that the country had witnessed enough violence and enough bloodshed in its history, adding that the price of the nation's unity had already been paid in the blood and lives of hundreds and thousands of soldiers and civilians.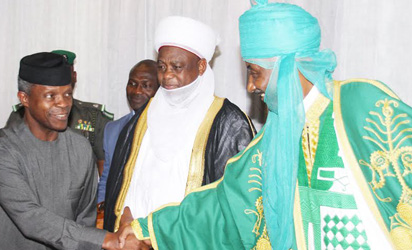 The Acting President's warning was against the backdrop of the recent quit notice given to the Igbos in the 19 states of the north by a coalition of 16 youth group from the north to vacate the region before 1st October and the threat of secession by the Nnamdi Kalu-led Indigenous People of Biafra, IPOB.
His remarks read thus; "Your demonstration of commitment and leadership is heartwarming. I have no doubt at all that we will all be enriched by our interaction today. This meeting is the third in the series that commenced last week.
"I have met with the leaders of thought from the north and from the South East and on Sunday with traditional rulers from the South East and yesterday you graciously consented to joining us at the Iftar ahead of today's meeting. I want to thank you dearly for spending the night in order to be able to attend this meeting.
"We have thought we will conclude this by tomorrow but you very kindly spent the night and several of our traditional rulers have travelled just since morning to be here with us, some travelled over night to be here with us.
"I am truly grateful for all of your sacrifice and your commitments to dialogue with and we hope will give us all the desired results. As royal fathers and traditional leaders, your place and your roles in our society and nation is significant.
" You are the custodians of our customs and traditions and living embodiment of our rich heritage. You are by virtue of your vast knowledge and wisdom and experience have a vital link over our past and an important guarantee for the success of our future.
"This is why your role in national affairs is so critical. And the reason for the series of the meetings is of course very well known to all of us. It became necessary in the wake of the divisive statements in recent months and weeks, essentially pitching the South East against the north.
"We are all aware of the so-called ultimatum issued by a group of northern young men asking that Igbos living in the north vacate the region. And before then, there was a clamour and it is still going on by some South Eastern youths operating as IPOB and affiliate groups demanding cessation from Nigeria from Nigeria.
"In all our previous engagements with the Northern and South Eastern leaders and indeed with all leaders across the country, we all came to the consensus that Nigeria is stronger and better together. And that these hate-filled and divisive rhetoric and agitations are unjustifiable, they are unacceptable and even in many cases are illegal.
"And I like to reiterate that today; Nigeria has seen enough violence, enough bloodshed in its history. The price of our unity has already been paid in the blood and lives of hundreds and thousands of soldiers and civilians. President Muhammadu Buhari spoke of his commitments to one Nigeria as arising from his experience in the military where he fought side by side with Nigerians of every tribe and faith from the 60s in the Congo."
Continuing h said, "He said we protected each other, we put our lives on the lines for each other. We were brothers even in the face of death. This is the type of nation that we must maintain. As royal fathers and leaders, I am sure you will agree with me that we have a role to play in countering the voices of divisiveness and the elements that seek to take us down a bloody path.
"Let us continue to counsel the misguided elements among our youths and think that ethnic confrontation is again and that words can be thrown around carelessly without repercussion .
"Having said that let me say that we are not deaf to the legitimate concerns and frustrations arising from different causes across the country at various times and this are not new. In the life of any nation and at various phase of any nation of course there will be frustrations and several complain.
"If you are to ask anyone, everyone and every part has its own grievances but these grievances have to be expressed graciously and managed with maturity rather than with scorn and disdain on the rights, freedom and the peace of others. I like to assure you that we all here are prepared of course to listen and to answer and very importantly to re-assure everyone that we are committed to the unity of Nigeria. And upon that foundation of unity, we can together build a prosperous and a great country.
"But we must never take our diversity for granted and I think it is so important for us to re-emphasis this again and again. We cannot take our diversity for granted. The strongness of our strength lies in that diversity and we must use that diversity not as a divisive tool but instead as a binding agent.
"As we round off this consultation tomorrow with the meeting with the governor, it is clear to me that we have all resolved to rule by words, by conduct and action to promote the unity of our nation. And on our part of government, let me say that we will ensure that the entire apparatus of government is deployed to ensure that no one threatens Nigerians territorial integrity, that no one threatens the lives or livelihood of any Nigerian living anywhere in this federation.
"Our objective is to provide the environment for prosperous nation, a nation where all regardless of ethnicity or religion can pursue their legitimate aspirations peacefully and securely. That is the kind of nation that we intend to build, that is the kind of nation that we need."
The Acting President latter went into closed-door session with the traditional rulers.
Some of the royal fathers that attended the consultative meeting included the representative of the Emir of Katsina,Prof. Sung Luka, HRH Alhaji Dr Yahaya Abubakar Etsu Nupe Niger State, Alhaji Ibrahim Sule Gambari,Emir of Ilorin,Kwara State, HRH Alhaji Mustapha Agwai 11, Emir of Lafia,Nasarawa State, HRH Alhaji Kyari Umar El-Kanemi,Shehu of Bama representing Shehu of Borno and HRH Jacob Buba Jang,Gbong Gwon Jos.
Also present at the meeting were, HRH Alhaji Abubakar Shehu Abubakar,Emir of Gombe, HRH Ndakwo Ameh Oboni 11,Attah Igala,Kogi State, HRH Alhaji Muhammadu Ibn Abali, Emir of Fika,Yobe State, HRM Alhaji Attahiru Ahmed Muhammed Emir of Zamfara, HRH Prof. James Ayatse Tor Tiv,Benue State, HRH Alhaji Adamu Buba Baba Yinusa,Emir of Abaji,FCT, HRH Alhaji Muhammed Isah Muhammed,Emir of Jama in Kaduna State, HRH Justice Lawal Hassan Emir of Gumi and Coordinator of the NorthernTtraditional Rulers Council,HRH Alhaji Emmanuel, Etsu Karu of the FCT
From the government side was the Chief of Staff to the President, Abba Kyari, the Minister of Science and Technology,Ogbonaya Onu, the Minister of Interior, Abdulrahman Danbazzau, the National Security Adviser, Babagana Munguno, the Speaker of the House of Representatives, Yakubu Dogara and the Deputy Majority of the senate, who represented the Senate President, Bukola Saraki.