President Donald Trump on Monday seized on the London terror attack to demand the US ban on travelers from some Muslim countries be reinstated, sparking a diplomatic row with Britain and jeopardizing his legal defense of the measure in the process.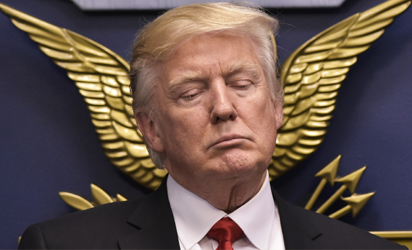 In the wake of Saturday's deadly attack, Trump renewed calls for a travel crackdown, while attacking London's Muslim mayor, the media, Democrats, judges and opponents who accuse him of playing the politics of fear.
Trump has made combatting jihadists a central plank of his political appeal, using deliberately inflammatory rhetoric and attacking the "political correctness" of those advocating a nuanced approach.
The "special relationship" with Britain became the latest casualty of that hardline stance Monday.
With the seven victims of Saturday's attack not yet buried, Trump repeatedly criticized London Mayor Sadiq Khan, whom he accused of playing down the terror threat.
Khan had warned Londoners that an increased police presence in the wake of the attacks was nothing to worry about.
Trump misconstrued that statement, and went on to accuse Khan of making up a "pathetic excuse."
"We must stop being politically correct and get down to the business of security for our people. If we don't get smart it will only get worse," Trump said.
Privately, British officials — many of whom call London home — were incandescent with rage.
Prime Minister Theresa May, who is under growing pressure to denounce Trump ahead of Thursday's election, came to Khan's defense.
"I think Sadiq Khan is doing a good job and it's wrong to say anything else — he's doing a good job," she said, despite the pair being from opposite political parties.
May had already faced pressure to criticize Trump or even withdraw his invitation for a state visit after he pulled out of a global climate deal and edged away from collective security arrangements under NATO.
Khan, London's first Muslim mayor, told Sky News he had "better and more important things to focus on" than responding to Trump's tweets.
In the United States, many veteran diplomats and officials decried Trump's remarks.
"To my friends in the UK: I apologize for this," said Ben Rhodes, a former national security aide to Barack Obama.
– Supreme Court –
Trump also found himself in hot water over his tough-talking tweets defending his ban on travelers from several Muslim countries, which is currently stalled in the federal courts.
The White House has struggled to prevent the measures from being permanently struck down, insisting it is not a "ban" and does not target Muslims — which would almost certainly be unconstitutional.
But Trump did not mince words.
"People, the lawyers and the courts can call it whatever they want, but I am calling it what we need and what it is, a TRAVEL BAN!" he tweeted.
"In any event we are EXTREME VETTING people coming into the US in order to help keep our country safe. The courts are slow and political!" he said, attacking the judiciary in a way that is rare in American politics.
The husband of senior Trump aide Kellyanne Conway was among those who warned those remarks may pose legal problems for the administration at the Supreme Court.
"These tweets may make some ppl feel better," George Conway said on Twitter, but "certainly won't help" get five votes on the Supreme Court.
In a rare move on Friday, the Supreme Court expedited consideration of the case, ordering the American Civil Liberties Union — which represents the plaintiffs — to respond by June 12 to the Trump administration's petition for court consideration.
Once it receives the response, the high court could quickly rule on whether to take up the case.
Trump called Monday for a "much tougher version" of his travel ban and an "expedited" hearing for the measure before the Supreme Court.
Trump issued his initial travel ban by executive order in January, but that measure — which banned entry to nationals from seven countries for 90 days and suspended the nation's refugee program for 120 days — was quickly halted by the courts.
He then issued a second version, but that too was put on ice.
arb/sst