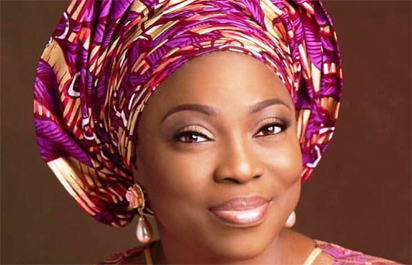 Bolanle Ambode
Wife of the Governor of Lagos State, Mrs. Bolanle Ambode, has called on mothers and guardians to stop child labour and pay more attention to the welfare of their children and wards.
She made the remarks over the weekend while interacting with newsmen at Ikeja, on the celebration of the 2017 World Day Against Child Labour.
Mrs. Ambode said that child labour is a crime against humanity as it keeps the child away from all benefits of childhood, which is about the happiest and most memorable period in the life of a human-being.
According to her, the non-eradication of the illegal act interferes with the child's right to basic education, making them vulnerable and a social liability on the country.
She said, "Child labour refers to the employment of children in any work that deprives children of the joy of childhood; interferes with their ability to attend regular schools, which is mentally, physically, socially and morally dangerous and harmful to the society. This practice is considered exploitative".
"Every child should enjoy childhood when they must live in the love and care of their parents. However, this illegal act of child labour forces the child to live like an adult. It causes untold emotional pains for the child and leads to unhealthy and unbalanced development of the mind, as well as social and intellectual backwardness".
Speaking further, Bolanle noted that healthy children were the future and power-house of any country, stressing that engaging in child labour amounted to spoiling and destroying the future of the children and the country.
Bolanle recalled that Lagos state walked tall as the first state in the federation to pass the Child's Rights Law providing the platform to enforce the rights of the child.
She enjoined mothers and guidance to always extend love to their children and wards, ensure school enrolment for them and ensure that they grow with good memories of childhood.
June 12, every year is set aside as World Day Against Child Labour, to raise awareness on the plight of child labourers across the world.