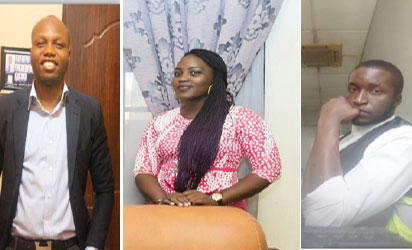 From L-R: Ekom, Naomi & Kuzayat
By Oluwatobi Alabi
ALUMNI of Salem University Lokoja last week recounted the various changes the institutions inspired in them. While his colleagues are still begging to apply for paid jobs, Gideon Ekom is already running three companies. Amazingly, he achieved the feat just four years after graduation.
It was at a parley between fresh and ex-students of Salem University organised to inundate the freshers with the possibilities that lie ahead if they maximise their stay in the school. Beaming with smiles, Ekom said, "This institution is not just an educational learning hub but truthfully, a transformational, leadership training ground for optimistic, innovative, goal-driven minds imbedded in the teachings of Jesus Christ."
Also, Godwin Awojobi, a senior software engineer with Biscom, believes the institution was a budding ground for his masterful performances in the corporate world.
Information technology
"Paired with academics, my degree played an integral role in the development and preparation of my quantitative and qualitative skills – both necessary tools for career success in information technology. Salem University has helped me grow my skill-set and put me in a position to succeed and also help others to succeed," Awojobi shared.
Nnadozie Sandra graduated from the Microbiology department of the institution in 2014. She works as an Operations Manager in an international networking company. She said: "I studied under great tutelage of men and women who took their time to mould us into global leaders both in and out of the classroom. Through the effective leadership segments, seminars and programmes held during my stay in Salem University, I have been transformed from a shy, naïve and timid girl to a reserved, God-fearing, relentless, goal-oriented woman."
Edwin Kuzayat works with The Nigerian Bottling Company, Abuja. He has become such an indispensable staff in the firm because of the rigorous training he received in Salem University. According to him, "I cannot stay out of my work place for half a day unnoticed; it is like I create a vacuum. That is what Salem University has helped build in me."
Andeley Naomi graduated in 2015/2016 from the department of International Relations and Diplomacy. She said she left the institution a transformed person. "Salem University availed me the opportunity to come out of my shell, leave the little shy girl I was behind and become confident and bold, because I was a global leader.
"It provided a platform for me to lead and wear the shoes I otherwise would not have before I came to Salem. There was no room for mediocrity. I learned to make changes and not wait for change. I learned to be the change I want to see in the world. I learned to bring people out of the labour market and not to join the labour market. I learned that there is dignity in labour."
"The standard of academics in Salem University brought out the hard and smart working girl in me, it was not a merry-go-round experience. We were drilled till the substance of excellence was found in us. I can confidently say I am sound in learning."
The chancellor, Dr Sam Amaga, said the institution has not even done enough yet despite the accolades. "We haven't really started. This is a moving train. By the time God is through with us, we would have transformed millions directly and indirectly," he assured.