…As Judge contests court's jurisdiction
Lagos—A serving Judge of the Federal High Court, Bayelsa Division  Justice Hyeladzira Nganjiwa, who was reinstated by the National Judicial Council, NJC, last week, has been slammed with a 14-count charge by the Economic and Financial Crimes Commission, EFCC.
The charges were filed less than 48 hours after the Presidency vowed to prosecute  the judges that were reinstated by the NJC but with cases to answer.
The anti graft agency accused Justice Nganjiwa of receiving over $260,000 through his bank account between 2013 and 2015, claiming that the judge could not explain the source of the funds.
The commission also accused the judge of receiving N8.6 million from unknown sources within the same period.
The Commission said that the sums did not correspond with the judge's salary.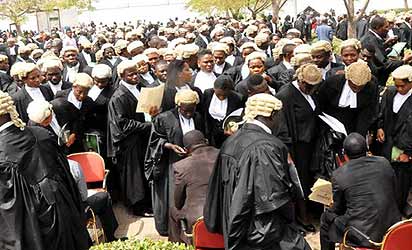 The alleged offences are in contravention of Section 82(a) of the Criminal Law of Lagos State No. 11, 2011
However, the Judge, who was supposed to be arraigned before a Lagos High Court yesterday, failed to appear before the court, as he could not get a flight to Lagos..
The judge's counsel, Mr Robert Clarke, SAN, during the court's proceedings at a Lagos State High court sitting at Igbosere yesterday,  objected to the arraignment of Judge.
His counsel informed the court that the judge had called him on Monday and informed him that he couldn't get a flight from Bayelsa to Lagos.
"Today's absence is not deliberate, this is a sitting judge of a Federal High Court, he called me and said that he could not get a flight to Lagos," Clarke said.
However, Clarke made a preliminary objection, saying, that the court does not have the jurisdiction to hear nor determine the case.
He said his objection was brought pursuant to Section 6 (6) (a) of the 1999 Constitution.
"This honourable court lacks the jurisdiction to try the defendant on the basis of the offences contained in the information," Clarke stated.
In his submission, the EFCC Prosecutor, Mr Rotimi Oyedepo, urged the court to dismiss the preliminary objection.
Oyedepo also stated that the NJC has only administrative powers and administrative disciplinary sanction against the misconduct of the defendant.
He said: "The charge is not against the NJC, the charge was brought against Nganjiwa in his personal capacity."
Consequently Justice Adedayo Akintoye, adjourned the case until June 23 for ruling on the preliminary objection.
The EFCC had preferred a 14-count charge of unlawful enrichment to the tune of $260,000 and N8.7 million, approximately N81.7 million, against justice Nganjiwa of the Federal High Court, Bayelsa Division.