By Johnbosco Agbakwuru
ABUJA – ACTING President Yemi Osinbajo Wednesday said that the Federal Government will not shy away from its responsibilities and vowed that the government would do everything within its power to defend and uphold the terms of the nation's constitution, which declares that Nigeria is 'one nation under God.'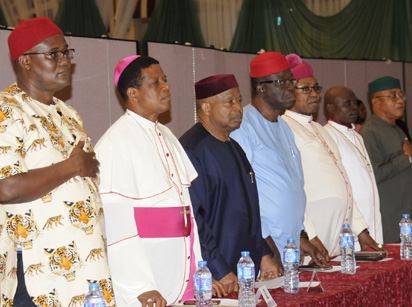 The Acting President stated this when he met with the leadership of Ohaneze Ndigbo, the five governors of the South Eastern zone and the leadership of the zone in the National Assembly and other stakeholders from the area.
The meeting was on the wake of the recent agitation for the Sovereign State of Biafra, the sit-at-home order by the Indegenous People of Biafra, IPOB and the ultimatum by the coalition of Arewa Youths that Igbos should vacate the 19 states of the North on or before 1st October.
In his opening remarks before going into close session, the Acting President reminded the Ohaneze and other leaders from the South East that violence and war were terrible things, stressing that they were easy to start but impossible to end.
He further stated that one of the reasons for the consultative session was to see a way of addressing the agitations and proclamations urgently and decisively, adding, "Burying our heads in the sand and expecting the storm to blow over of their own accord is not an option."