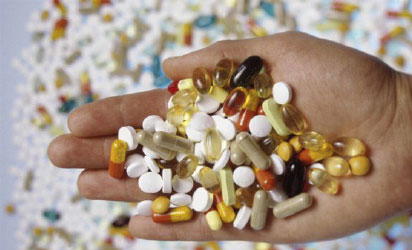 Drugs used to illustrate the story
By Sola Ogundipe
THE Pharmaceutical Manufacturers' Group of the Pharmaceutical Manufacturers Association of Nigeria, PMG-MAN, has  urged the Federal government to expedite action  on the Expedited Medicines' Access Programme (E-MAP) proposal between the Federal Ministry of Health and local manufacturers, even as it  described the partnership between government and May and Baker, as ground breaking.
Expressing this position in a letter to the Minister of Health, Prof Isaac Adewole, Chairman of the PMG-MAN, Pharm S. Okey Akpa and the Executive Secretary, Dr. Obi Peter Adigwe  said government's  continuous support in enabling local manufacturers improve the access that Nigerians have to high quality and affordable medicines was in line with expectations of the PMG-MAN in ensuring that Nigerians have timely access to good healthcare.
According to them, the  E-MAP is  a proposed collaborative contractual partnership between the Ministry and Local Manufacturers.
"On this proposal Sir, we have written and presented to you on the 7th of February 2017 and 21st of February 2017 respectively.
"E-MAP is line with the vision and aspirations of the current administration which aims at providing affordable, high quality medicines to the Nigerian populace in a sustainable and cost efficient manner.
"The programme design involves combining innovative manufacturing practices with contextual logistics and supply chain management. This will in turn achieve effective, cost efficient and timely provision of high quality medicines across the country."
Presidential order
They recalled the Acting President's Executive Order on Local Content in Public Procurement mandating all MDAs to grant procurement preference to local manufacturers, and expressly specifying locally manufactured medicines in Section 4F.
"In light of this, we wish to appeal to you to begin the relevant processes for the implementation of E-MAP as this will further validate your engagement with the Public-Private Partnership model to improve access to healthcare," they noted.
On the partnership of government with May and Baker, they said: "Local vaccines' production to address local disease is the ultimate aim of any nation with robust strategies to address healthcare challenges. "This partnership with May and Baker is the first step in revitalising local vaccines' production in Nigeria, and represents the most sustainable and effective approach to ensuring the relevant National security and self-sufficiency in this critical area."
The duo said local medicines' manufacturers in Nigeria have long been associated with the production of high quality, affordable medicines.
"It is on record that Nigeria still has the biggest cluster of WHO certified companies in Africa, and incidentally, May and Baker is one of those companies. Local Medicines' Manufacturers are also at the forefront of innovative and contextual solutions to local healthcare issues, such as this commendable partnership that you have initiated.
"This is evidenced by our robust and comprehensive engagement with a wide range of policymakers and stakeholders."