By Dayo Johnson
Akure—A Pastor, Adeolu Babatola, is helping Police detectives in Ondo State to unravel the mystery surrounding the death of his wife, Opeyemi Babatola, whose body was discovered, on Monday, hanging in an uncompleted flat in their compound in Akure, the state capital.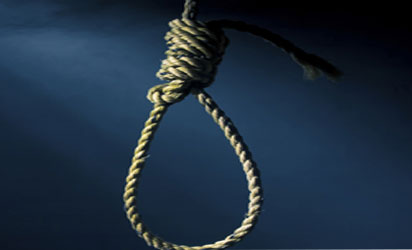 It was gathered from a Police source that the 52-year-old mother of three hanged herself in an uncompleted flat in her residence located in Aule area of Akure metropolis on Friday.
The husband of the deceased, Pastor Adeolu Babatola, who reportedly discovered the decomposing body on Monday,  quickly informed the Police.
It was learned that the husband told the police detectives that the deceased informed him that she was going for a church programme, until her decomposing corpse was discovered three days later.
A family member, who spoke on condition of anonymity, said the woman might have killed herself because of one of her children said to be in prison's custody over a crime, as the hearing of the matter is this week.
The source said: "She told her child and her husband that she wanted to go to a mountain to pray. So since Friday her husband was thinking she was at the prayer mountain praying for the family because that was not her first time of doing so.
"On Monday morning, the husband went to the back of the other apartment in the house and discovered that there were many houseflies on the window and decided to open it only to discover the dangling body of his wife and he raised alarm."
It was gathered that immediately the news of the incident broke in the area, the Police was invited to the scene, but they could not do anything to untie the woman.
Hours later, some traditionalists were invited to bring down the corpse.
The family source added that the husband, Pastor Babatola, is in police custody undergoing interrogation.
Contacted, the police spokesman, Femi Joseph, confirmed the incident, noting that detectives have commenced investigation.
Joseph said that "the husband is with us and helping us in our investiga-tion. He narrated his side of the story and we are still investigating his claims.