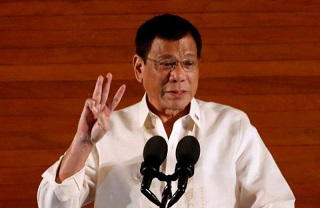 Philippine-President-Rodrigo-Duterte
Philippine President Rodrigo Duterte on Tuesday ordered the military to "crush" Islamist militants still occupying parts of a southern city, as photos emerged of bombed buildings and mangled corpses.
Duterte described the rampage in Marawi City by the militants, fighting under the Islamic State group flag, as a "rebellion" demanding a forceful response.
"I am not ordering you to take an ordinary police action. I am ordering you to crush our enemy," he told soldiers while visiting the country's south.
"When I say crush them, you have to destroy everything including lives. Rebellion is no joking matter," said Duterte, who has declared martial law in Marawi and the Mindanao region.
The clashes in Marawi erupted May 23 when security forces raided a house to arrest Isnilon Hapilon, a veteran Filipino militant reputed to be the jihadi group's leader in Southeast Asia and who is on the US government's list of most-wanted terrorists.
Authorities said they were taken by surprise when gunmen went to protect Hapilon and then rampaged through the largely Muslim city of 200,000.
"I cannot stop my soldiers now. Let's finish this war that you (IS) have started," Duterte said.
"The objective of ISIS (another name for IS) is to kill and destroy, period. So I will destroy also and kill, period."
The militants however have withstood two weeks of sustained ground assault by government forces, backed by aerial and artillery bombardment.
The first photos of Marawi's downtown area — which is off-limits to the media — have revealed grisly scenes.
The devastation was photographed by rescuers who entered the area last weekend under a fleeting humanitarian truce to help terrified residents trapped in the fighting.
The photos showed rescuers holding megaphones and white flags as they escorted an old woman through empty streets.
Husks of buildings pockmarked with holes — apparently inflicted by bullets, rockets or bombs — framed the scenes.
Another photo showed a human corpse in the middle of a street with its head, one arm, both feet and half its torso missing.
Marawi native Zia Alonto Adiong said he was "devastated" by the images.
"It's deeply disheartening to see a familiar place razed to the ground. Marawi city is unrecognisable at first glance. I thought I was looking at Aleppo," he said, referring to the Syrian city battered by war.
"This is not the Marawi I grew up in," he added.
The fighting has left 178 dead — 120 militants, 38 soldiers and police and 20 civilians– though officials warn the toll was likely to rise.
About 250 gunmen remain entrenched in downtown buildings, the military said.
They are using tunnels to dodge the bombs as well as to hide their high-powered firearms, military officials added.
Analysts have said that the IS group is planning to declare a province in Mindanao as part of its objective to establish a caliphate in Southeast Asia.