By Egufe Yafugborhi
WARRI—EIGHTY- six riverine communities across Bayelsa, Delta, and Rivers states have raised alarm over looming food crisis due to alleged operational lawlessness of an Indian oil firm in Kwale area of Delta State.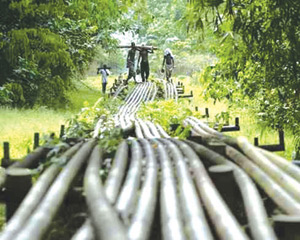 The communities, in a statement through their counsel, Mr Gabriel Yabaka, said that the firm, Sterling Oil Exploration and Energy Production, has, since 2012, been pumping oil directly from its Asemoku oil field in Kwale, Delta State, using vessels which are polluting the fishing environment,  against global best practices and industry regulations of piping through a linked terminal.
Yabaka said: "The company uses about 35 Yades vessels of 100,000 barrel capacity each, simultaneously crisscrossing the shores of River Niger, Forcados and Demos tributaries in a convoy with products sucked directly from the Asemoku Oil Field.
"The oil is then freighted and trans-loaded to export vessels in the high sea, causing interference/dislocation to fishing activities of natives, their only means of survival, without any mitigating response put in place.
"We have not seen where a company in Nigeria exports its oil sucking directly from oil heads to vessels and to ships in the high see. Even if lawfully allowed, there must be proper environmental impact assessment, EIA, to understand the socio- economic and health implications for affected communities."
The communities also expressed disappointment at the National Oil Spill Detection and Response Agency, NOSDRA, for allegedly misleading them via a letter dated August 4, 2012 that the industry regulator had already taken the company to court for environmental noncompliance whereas there was nothing on ground to substantiate the claim.
"They have accordingly also put NOSDRA on notice to furnish them with the venue stage of the suit to enable them apply as a necessary party to defend their rights and take their destiny in own hands," Yabaka stated.
The communities called on government and relevant agencies to prevail on the company to do the needful before their lawful agitation degenerates into a major crisis capable of triggering another round of violence and insecurity in the Niger Delta.