By Dennis Agbo
ENUGU- Igbo leaders including Biafran war veterans relived their experiences during the 1967-1970 Nigerian-Biafran war during the Night of Tributes for the former Deputy President General of Ohanaeze Ndigbo, and late Emeka Odumegwu Ojukwu's Intelligence Officer, Professor Benedict Ebele Obumselu in Enugu, weekend.
Obumselu belonged to the Music Society of Nigeria, hence the Enugu Music Society performed a classical concert in addition to a brief dramatic performance that spoke on the character, Ben Obumselu.
Among those that present at the Night of Tributes were the President General of the pan Igbo group, Chief Nnia Nwodo, erudite lawyer, Prof. Ben Nwabueze, SAN, Col. Ben Gbulie, Chairman of South East Nigeria Economic Commission, SENEC, Chief Chris Okoye, former Governor of Anambra State, Dr. Chukwuemeka Ezeife, renowned Medical Practitioner, Prof. Simon Asogwa, who was the chairman of the burial committee;  former National Chairman of MAMSER, Prof Elochukwu Amucheazi, Vice Chancellor, Enugu State University of Science and Technology, ESUT, Prof. Luke Anike and former Secretary General of Ohanaeze Ndigbo, Dr. Joe Nworgu.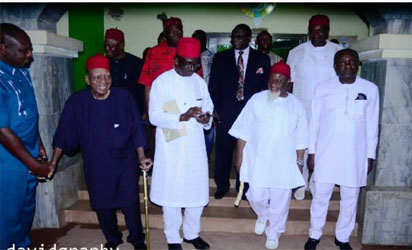 Prominent war veteran
The list also included the Chairman of Enugu Sports Club, Mr. Ben Etiaba, and former National Chairman of the All Progressives Grand Alliance, APGA, Chief Victor Umeh, Senator Anyim Ude, Chief Godwin Ezeemo as well as the deceased's wife, children, family and friends.
Col. Gbulie, retd, who participated in the January 1966 coup and a prominent Biafra war veteran, said that although he had stories of Obumselu's exploits, he never met him at close range throughout the war. "Obumselu was so close to Ojukwu that we felt he was among the people shielding Ojukwu from some of us who were at the war front. I later met him and it was a jolly meeting.
"Then he was Dr. Obumselu and he was desk officer under Ojukwu's ADC, Col. Emma Nwobosi. His job was intelligence gathering and he passed information to the field. He was also involved in war reports. He was the man that wrote what people like Okokon Ndem read on Biafra Radio. Broadcasters read what he wrote on the air and he was also among the people that wrote reports of the war," Gbulie said.
Gbulie also said that Obumselu was involved in the scripting of Ojukwu's popular Ahiara Declaration that encompassed the blueprint of the Biafra nation and its relationship with other countries of the world. "Ben is already in heaven and my prayer is that God will grant him eternal rest," he added.
Prof. Nwabueze on his part, said that he met Obumselu after the war in Zambian University where he was a professor of English and himself a professor and Dean of Law in the same University.  Prof Nwabueze further noted that although Obumselu was a critic, he never taught criticism in the universities where he lectured all over the world, adding that the deceased was a true patriot of Nigeria and a great Igbo man.
"He deployed his intellectualism during the civil war and authored the Ahiara Declaration. Obumselu and I drafted the Biafra Consultative Assembly resolution and we were age mates. He was only six months older than I am. I drafted Ben into Igbo Leaders of Thought so that my expectations may be realised but now he is no longer around to share in my disappointment. I wish him a quiet repose," he said, insisting that "the evening was indeed a celebration of Obumselu's life."
President General of Ohanaeze Ndigbo, Chief Nwodo, said "a library has been lost. He stood out in all respects. He was a custodian of all works of life and the late Christopher Okigbo admitted he was guided by the critics of Obumselu. He had the blessing of God to have age and brilliance and significant foot print in the sands of time."
Chief Victor Umeh of APGA described Obumselu as a consistent character who was captured in the history of Igbo from the time of civil war up till his passage, noting that he had gone to meet with Chukwuemeka Odumegwu-Ojukwu.
In his contribution, Chief Chris Okoye described Obumselu as a perfect example of the idea that a leader need not be merely an office holder. "He was in his lifetime hardly associated with high public office, yet everyone accepts he was truly a leader. He influenced generations of people in Nigeria and elsewhere and motivated them to do the right things through the sheer force of his personal example.
"Professor Obumselu led a life of self-giving, a life of working for the common good, a life of solidarity with his people. For the over eight decades he was on earth, he pursued no cause for personal benefit or even for the benefit of his own family. Obumselu's prodigious intellect and vast network of friends and admirers could have earned him any position in Nigeria, but he chose to work for the public good quietly but most effectively.
"During the Nigerian civil war, Obumselu could have chosen to return to Oxford University to teach or gone to any other place which would enable him to achieve global fame for himself, but he chose to work in solidarity with his own people who were dying of malnutrition, hunger, bombings and so on. Even when the war was over, he continued to work tirelessly for his people without expecting any reward.
"Most people do not know to this day that he wrote the book entitled  The Massacre of the Igbo People in Northern Nigeria. It is a book that will forever prick the conscience of every Nigerian citizen. Typical of Professor Obumselu, he did not openly claim credit for the great work, a product of stupendous research."