bY BOLUWAJI OBAHOPO
LOKOJA – Following the first successful stage of N-power programs of the Federal Government Social investment schemes in Kogi State, the state government said it expecting to register 50,000 unemployed youths for the second face.
The Focal person for the scheme, Adoga Ibrahim stated this yesterday in Lokoja during a review of the first phase and prospect for the second phase.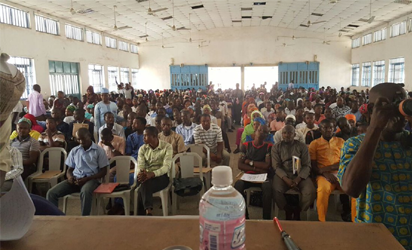 Adoga said 10,000 intended beneficiary will be picked for the second phase which is 120 percent (5500) more than the first phase of the successful beneficiaries from the state.
Adoga also said the portal for registration for applicants will open today calling on prospective applicants to take opportunity of the scheme, "In view of the difficulty in accessibility to the portal especially in the grassroots, we have developed a 'Grassroots Application Support Scheme' where we have officials in the rural area to give support to intending applicants.
Do you want to apply click here
"Those applications will be collated by our field officers to the state capital. We also expect and encourage those who have access to Internet to fill their application. Our Grassroots Application Support scheme is for people in the rural area to have opportunity to benefit from the scheme.
"We received over 18'000 application in the first phase and we know that with the success story recorded we shall have more than that. That is why we developed this new approach to help those in the rural area to get access to easy registration before the window closed".
He also warned some people who have started requesting for money from prospective beneficiaries to help them facilitate their enrollment, said the process is free.
Head unit of the N-Power, Femi Bolaji on his own eulogized the state government for the operation fund made available for the scheme which he said really supported the scheme to achieve the success.
He also hinted that the Government Enterprises and Empowerment Program, GEEP, otherwise known as 'Market moni' has commenced in the state calling on small scale entrepreneurs to take advantage of the scheme, "We are targeting 10,000 SMEs which we be given loans with single digit interest over 6 months. This cooperative driving micro credit scheme is part of the Federal Government Social investment programs and we hope that our people will take advantage of it to better their life".