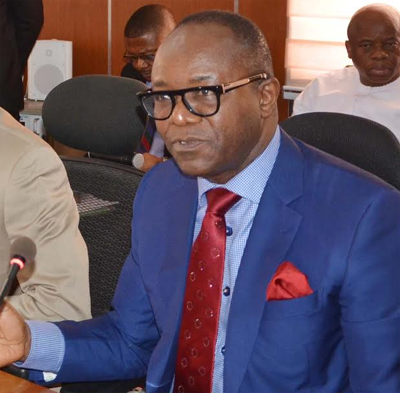 Dr Ibe Kachikwu
Nigeria oil reserves to last 39-yrs
By Johnbosco Agbakwuru
ABUJA – MINISTER of State for Petroleum Resources, Ibe Kachikwu Wednesday stated that the present oil that has remained the main stay of the nation's economy may not last beyond 39 years.

The Minister also lamented that Nigeria remained the only oil producing country still struggling with the importation of refined petroleum products.
Speaking at the 5th Triennial National Delegates Conference of the Petroleum and Natural Gas Senior Staff Association of Nigeria, PENGASSAN in Abuja Kachukwu described as embarrassing the country's inability to refine oil in the country.
Predicting the future of oil in the country, he said the nation's future lies in the area of gas, saying at best, the nation's oil reserve will last for another 25 to 39 years, while the nation's gas reserve will last for over 60 years.
According to him, "For me, the whole idea of continuing importation of petroleum products in this country is a shame. We are the only one, when we go for OPEC meetings that are still struggling how to import petroleum products when we should be able to produce even if it is only the petroleum products that we need in this country.
"We need to find anything that will help us to do that and I encourage you to collaboratively work with us as we get into this. Once that happen, it is going to open a whole vista of opportunities in marketing, midstream performances, opportunities in infrastructure along pipeline.
"I urge you to take the solidarity that you have and you sing so passionately about away from just fighting issues of staff welfare and move into issues of staff investments. I need to see you participate in the value chain. Some of you are some of the best brains there are in the industry and you know where the issues are and where to create new investments."
He said Nigeria was not only the member country of OPEC still grappling with the importation of refined petroleum products, but despite its huge resources, the country had continued to grapple with epileptic power supply.
The Minister who said that Nigeria should be able to produce enough petroleum products to meet domestic needs, stressed that changing times in the industry suggested that the country must look for ways of ensuring efficient management of the refineries and make them productive or lose them and the job opportunities it offers.
Commenting on the epileptic power in the country, he said: "It is a shame that a country with such massive resources will continue to be epileptic in power supply. I go to Ghana sometimes and I am ashame that we supply some of the gas. At least in Accra, and most of the major cities, power is 24 hours. In Ivory Coast, despite the problems they have in terms of power costing, there is 24 hours supply.
"There is no absolute reason why this country cannot move from this decadent practice of explaining inefficiency to a new horizon where visibility are grandiose. I am committed to working with the power ministry and every Nigeria to move the transformative journey from one point to another, from the point excuses to the point of absolute final delivery.
"The reality is that the oil industry is changing almost transformatively. Prices have tumbled and have continued to struggle despite all the works we have done in OPEC to the and boast it.
"The reality is that investments are declining at an alarming rate and suddenly, there are new entrants into the industry.
"Also, CEOs are struggling as to where to put very scarce resources and suddenly, it is now how well you can market your country, reposition your policies in such a way that there are benefits. All is a sudden, investment return in some of these exploration activities are beginning to get challenges.
"Only those who are able to look at their technology and new ways of doing business are going to survive the oil industry of tomorrow.
"If you take the annual return of most of the major oil companies, you will see the sort of disequilibrium that's happening there and those who are beginning to jump in and out of leadership, you realize that expectations are changing.
"As it concerns Nigeria, we must work inclusively hard to deal with some of the difficulties that we will continue to see in our production platforms.
"Whether it is the militants which is a key component or the slow speed of approvals or whether the fact that our policies are not even as fast as they should to catch up with changing Times.
"Those of us who have the opportunity to seat in ministerial zones where we have to influence policies have got to work extremely hard to help drive the sea of change that is imperative is the sector is to survive. Infrastructural deficit is a key component. We lack infrastructure in the sector, whether it is down stream or up stream or oil and gas.
"The absence of infrastructure has made it impossible to have a holistic private sector participation. We have got to find policies that will encourage private sector participants to play a key role. Coupled with that is the fact that countries are moving away from oil. Our oil estimate as per reserve is at best about 25 to 30 years, while gas estimate is over 60 years.
"Clear enough, Nigeria is more of a gas country than an oil country. But what are we doing to ensure that our dramatic movement into the gas production. I am just coming from the FEC where we presented a memo on gas which has been approved today.
"Major movement is in terms of what we need to do in the gas environment because it is so key that unless we can put the two energy together, we are not likely to see an improvement in our economy or see opportunities that most of you are beginning to miss in terms of job creation and employment in the oil sector.
"Gas is the new horizon of opportunity. There is so much happening that needs to happen, that should have happened yesterday. Gas is the future for this country and the place to be and we need to start looking at that. Increasingly, we are seeing very strong local players."
On the alleged plan by the government to either concession or sell off the refineries, he said, "let me say that there has been attempt and there is no approval to concession refineries or sell refineries. I keep hearing discussions all over the place especially from people who should know better.
"What we have approval for is to bring in a financing mechanism that will enable us to finance and develop and upgrade the refineries as they are. The reality is that once private sector players begin to build their own refineries, whatever we it that we are afraid of will disappear and unless we begin to move very rapidly and quickly to position these refineries in such a way that they can compete, we will lose the refineries completely together with the job scale that exist there right now.
"My drive is to see that those investments goes through a transparent process and the announcement that you hear about selection has not happened. They all be pacesetters in the whole process, but it will go through a transparent process.
"Nothing that we are trying to do has taken away thE management from the NNPC. However, we need to bring in fund and best practices and elevate these institutions to the level where they should work for this country because we are losing money."
In his address, National President of PENGASSAN, Comrade Francis Johnson said the union was in full support of government initiatives to bring in investors to revamp the refineries especially in the area of funding and expertise.
But he insisted that the union should have access to the Memorandum of Understanding, MoU, to be signed between the federal government and the investors for the three refineries in Kaduna, Warri and Port Harcourt.
He also said that the two unions in the oil and gas sector, PENGASSAN and NUPENG should be carried along at all stages of the process to ensure that Labour related issues and job security is guaranteed, adding, "while we await the direction of the investors in the three refineries, we call on the government to ensure immediate rehabilitation of obsolete equipment in the plants."
Johnson frowned at what he described as fragrant disobedience to tripartite agreement reached by International Oil Companies operating in the country on job security, saying "we take this as an affront on the constituted authorities in the country.
"We call on the management of the Oil and Gas companies in Nigeria to respect the laws of the land as well as constituted authorities in Nigeria."