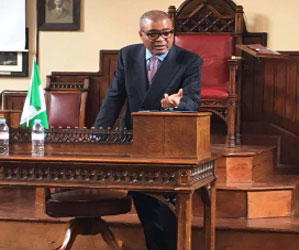 Seriki
Being the concluding part of the speech delivered by a former Minister of Defence, Interior, Agriculture, Water Resources and Mine/Steel, Demola Seriki, to the Cambridge Union Society in the United Kingdom.
Seriki's speech was entitled, 'The Role of the Nigerian Youth in Diaspora in Nation-Building: Towards a Sustainable Democracy'.
The products of our tertiary institutions in most cases is shoddy.
I need to use this platform to tell you that there is no country without unemployment be it United States or United Kingdom but the difference in Nigeria is that we have a rising challenge of unemployable as opposed to only Unemployment..
It is saddened to allude to our minimum monthly wage of N18,000 which comes to under $60.00 at the bank rate and under $40.00 at the parallel market rate a.k.a. Black Market.
Who survives on that without looking for other avenues to make a living?
Even centuries before now, the great Greek Philosopher, Plato, highlighted the importance of investing in the youth population thus: "the direction in which education starts a man will determine his future in life."   It is, therefore, best that education starts a man from a very early age.
Therefore, to have the destiny of our youths settled, government at all levels in Nigeria, must ensure that the education sector is fixed in line with verifiable global models.
Contemporary examples where nations used youth education to attain socio-political stability abound.
Consider this, as obtained in a piece entitled: Investing in the future of our youth, by  Dr. Qiang Thang:''Twenty years ago there were 183 million illiterate   in China,   Today that figure has dropped by 66% – an achievement to be proud of."
On the strength of this,   may I urge Nigeria and other countries in Africa to look to China, other East Asian economies, Europe, US, and Canada, to learn how to help their young people lacking the most basic of skills.
Perhaps, that would result in a drastic reduction in the exodus of our youths to foreign nations in search of quality education.
At this juncture, one can state that both the youths in diaspora and Nigeria as a nation, need to find a point of convergence and confluence so as to achieve the kind of synergy required for nation building.
In doing this, may I urge you to eschew bitterness over the reasons many of you left the country and consider the future which rightly belongs to you.
Some of you are here today not because leaving Nigeria was a natural decision, but the fallout of the collapse of the education sector occasioned by unfavorable actions and inactions of the system.
THE SYSTEMIC CHALLENGE
I would neither be helping Nigeria, nor would I be helping anyone, if I fail to admit that a cocktail of malady had afflicted our nation in the past.   And at the risk of sounding partisan, the present administration even as it attempts to right the wrongs of many years, yet, it is confronting its own challenges and contradictions too, a consequence of deep-rooted and entrenched attitudes.
Corruption has graduated to cancer especially in recent time and it was almost defying solution until the anti corruption crusade of Muhammadu Buhari's administration. Corruption is so embedded in the system to the extent of advancing to judiciary as it became evident recently.
Government   should endeavor to confront the major areas of our albatross namely Infrastructure,Security, Corruption including financial leakages and without being selective though, and Power.   We will be a far better country if we are able to achieve this.
When I was in government,I was a proponent of the idea to ban further importation of  generators except for essential organs like hospitals and reputable manufacturers  etc…The ones we have in different households and private units would still be in use.
Let's see where we will be in the next decade doing that. Government from time to time  build power infrastructures but some people with motive adverse interests always carry  out acts of terror by sabotaging through destruction the infrastructure in place.
In the book, "The Looting Machine", by Tom Burgis, "a searing expose of the global web of traders, bankers, middlemen, despots and corporate raiders that is pillaging Africa's vast natural wealth.   From the killing fields of Congo,   to the crude-slicked creeks of Nigeria, a great endowment of oil, diamonds, copper, iron, gold, bauxites etc has become a curse that condemns millions to poverty, violence and oppression.   That curse is no accident."
Why  elders in other more serious countries are enjoying their pension benefits, Abel Afolayan, President, Nigeria Union of Pensioners, NUP, a septuagenerian, earlier in the year, along with some other pensioners – some in their eighties – appeared before the House of Representatives to press home their demand for what is rightfully theirs: Their monthly pension payments.   The administration of President Muhammadu Buhari is grappling with the challenge of solving the over N400billion pension liabilities inherited.   Which country does that to its senior, very senior citizens?   Yet, that is the reality of our Nigeria.
"As early as the late eighteenth century, the great French political philosopher Montesquieu noted the geographic concentration of prosperity and poverty, and proposed an explanation for it. He argued that people in tropical climates tended to be lazy and to lack inquisitiveness. As a consequence, they didn't work hard and were not innovative, and this was the reason why they were poor. Montesquieu also speculated that lazy people tended to be ruled by despots, suggesting that a tropical location could explain not just poverty but also some of the political phenomena associated with   it.
Some, if not most of you here, represent the collateral impact of the scourge of corruption in virtually every facet of the Nigerian life.   It is hoped that the fight against  corruption being waged by the Buhari administration – though with its own challenges and unintended drawbacks – would help in many ways to reshape the sensibilities of Nigerians.
Nigeria's Human Development Index, HDI, trends based on consistent time series data appears to have been showing steady improvement.   The data by World Bank shows that between 2010 and 2015, life expectancy had improved in those six years from 51.3years, to   53.1, for 2010 and 2015, respectively.
So, my concern is why can the life expectancy of Nigerians not be as high as 70 or 75years?
Is there any curse that says Nigeria, with all its human capital and natural resources, cannot create an environment which makes its citizens live longer?
But  things  could have been better if government, over the years, had honestly invested in the future of the country, by way of making the necessary investments in healthcare, education, infrastructure, security and other essential social services towards development, growth and prosperity .
YOUR PRE-EMMINENCE
Your being in the diaspora does not in any way mean you are a cast away.
In truth and in reality, it means you represent a key developmental element going by the experiences you are currently logging in foreign lands.
Let me make an axiom at this moment, the African-Americans will be very pleased and comfortable to have a choice of another country or countries to call home like you all but unfortunately they are in a state of no return of knowing no other country other than United States of America.. They will without doubt love to be in your position.
You're not forgotten but don't forget yourself in diaspora too. I'm sure you're aware that there is Office of Nigerians in Diaspora in Presidency with a Special Assistant in the person of Hon. Abike Dabiri- Erewa and working closely with Nigerians In Diaspora Organization(NIDO) under the chairmanship of Mr. Sunday Adewusi
Recently, the Nigerian Senate passed the Diaspora Commission Bill which is highly commendable.
In reacting to the development, the chairman of NIDO assured that NIDO would continue to contribute its quota to the development of the country and calls on lawmakers to also immediately start working on the Bill to allow Nigerians in Diaspora to Vote in the next general election.
The bill is expected to be forwarded to Mr President Muhammadu Buhari for his assent.
Bearing in mind that the history of independent Nigeria would be incomplete without referencing the roles of youths in diaspora, one is left with no option than to urge you to make yourselves available for the task of sustaining our democracy.
A recent report released  by the World Bank at the just concluded IMF/World Bank's Spring Meetings in Washington DC, USA, read:  "Remittance flows to Sub-Saharan Africa declined by an estimated 6.1 per cent to 33 billion dollars in 2016, due to slow economic growth in remittance-sending countries; decline in commodity prices, especially oil, which impacted remittance receiving countries.  The diversion of remittances to informal channels due to controlled exchange rate regimes in countries such as Nigeria contributed to decline in the region.   However, remittances to the region are projected to increase by 3.3 per cent to  34 billion dollars in 2017."   With an improved level of  remittances, it would be a signal that you are all doing well and keeping the economy back home in great shape.   And this is where the connection between economic development and political stability finds a co-terminal point of relevance.You have the intellect, experience, age and power to strengthen the fabrics of our democracy in many ways.
Let no one tell you that the challenges confronting our democracy, no matter the peculiarities, are insurmountable.
Don't hold anything back whenever the clarion call to help sustain our democracy beckons.
Nigeria holds great promises and prospects, which would only become manifest with your invaluable inputs.
Aliko Dangote is a product of Nigerians in Diaspora… He has created a hallmark of global image for Nigeria through Trade,Commerce and Industry with overwhelming employment opportunities and benefits for Nigerians in various sectors..He studied at the Al Azhar University in Cairo… Today he is the African richest man… And in fact, richest black man in the world … You can be one too tomorrow..Who knows?
Most of us don't realize that a good number of our sports men and women especially soccer players are notable Nigerians in diaspora that usually honour our nation. They come back home often when a clarion call is made to them to represent Nigeria at global sporting events like Olympics and FIFA World Cup etc to wear our National colours..   Kudos to them!
Thus, I urge you to directly and indirectly get involved in the processes leading to the emergence of leaders in Nigeria.
It would not be enough and it can never change the tide of pessimism, to allow yourselves be reduced to arm-chair critics of the seeming unfortunate socio-political conditions back home.
Some of you need to disembark from your train of passive involvement to the arena of practical involvement and participation.
While I acknowledge that you are thousands of miles from home, having an interest in the political process would do much in strengthening our institutions and positioning them for a virile democracy.
Your cumulative experiences of being part of a developed democracy abroad can be translated into catalysts to engender a new paradigm of democratic advancement.
This call is not being made without cognizance of the absence of diaspora voting in Nigeria, as obtains in some nations where citizens, who reside abroad, can vote.
However, I am convinced that the various attempts at constitution amendment would someday, make such a provision.
As we look forward to that as a people with a common identity and future, it is an obligation that we see the task of deepening our democracy.
CONCLUSION
We should begin the voyage of rediscovery, a voyage with a path that is already known with its elements, though seemingly daunting, but nonetheless surmountable.
Therefore, let us explore areas of advancement by being involved in the following:
*Forge unity using existing relationships between one another while abroad
*Bring your experiences to bear on the social political economy intellectual capacity which in turn creates an enabling environment for democracy to thrive in
utilizing your world view in shaping and advancing the cause of democracy
*Mobilise critical mass of the people to get involved more actively in politics as it is the case abroad
*Create new paradigms with your participation in active political activities
*Serve as role models for fellow youth and peers
*Deploy your vast network in the area of knowledge enhancement, with the aim of creating an information-rich environment for the  promotion  of democratic values
*Employ contemporary knowledge acquired abroad to broaden the base of understanding democracy back home
*Engage in meaningful advocacy that drills down the message of hope that democracy brings.
My fellow citizens, there would always be problems to solve.
In terms of challenges, we cannot but suffer challenges and hardships that come with it. During a CNN pre-2016  Presidential  Election analysis after one of the Presidential debates between Hillary Clinton and Donald Trump, John Begala, a US Democratic Party member, tried to make the point that we only need to keep trying and doing what we must do, when he said: "John Lewis has been a civil rights activist for 50 years, yet, there is still racism…. There is no end to trouble this end of paradise – I hate to tell you that.   But, you wake up and every problem is solved, you are dead.   Absolutely"
To address missed opportunities, the time is now (because yesterday is gone), for you, my fellow countrymen, to harness and tap into the countless opportunities that a democratic environment provides.   It is when you avail yourselves of these boundless opportunities that the environment for the enthronement   of visionary leadership can then be created and pursued with devotion and   patriotism.
It takes all of us to be active towards nation building through zeal and drive and patriotism…Concerted effort is the only way forward.. This is incontrovertible… I therefore use this medium to implore you all to develop the conviction and Valor to be active but not passive towards Nation Building Drive…
One thing I take home from this moment is how profoundly I am proud of each of you all to be a part of Cambridge family and having gone through the portal of this revered institution of learning which will earn you a WORLD CLASS DEGREE is a GREAT FEAT.
I thank you all for listening..
GOD bless you all and our dearest country-Nigeria Regards, MDS.