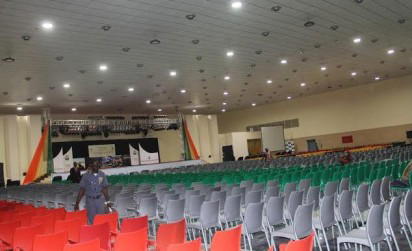 The hall
Dr Samuel Andema, representative of the steering committee of the Pan African Literacy for All Conference, (PALFA) says Nigeria is "fit and ready" to host the 2017 edition.
Andema, who is on a two-day visit to Nigeria to ascertain the level of readiness of the country to host the conference, made this known while addressing newsmen on Thursday in Abuja.
"I was sent by the International Reading Association, which is the mother association under which the African committee resides and exists.
"I have held meetings with government officials, groups and other stakeholders, I have visited the facilities that would host the conference and I was impressed.
"Nigeria is hereby declared ready to host the 10th Pan African Literacy for all Conference, 2017, "Andema said.
He said the conference would hold from Aug. 27 to Aug. 31 at Sheraton Hotels and Towers in Abuja.
Andema explained that PALFA is a biennial literacy conference that has been held in many African countries.
"Reading Association of Nigeria (RAN) is hosting the conference in collaboration with the Federal Ministry of Education, International Literacy Association, The World Bank and Universal Basic Education Commission.
"Others include, Canadian Organisation for Development through Education, Northern Education Initiative (NEI-Plus), National Open University among many others,"  he said.
Andema said the theme for the conference is: "Connecting and Engaging with Literacy: Systems and Structure for sustainable Development".
He explained that under the theme, the conference would also address other sub-themes such as; "Bi-literacy and multilingualism", "Literacy and the Girl Child Education" and "Innovation in Literacy Instruction and Assessment".
"Other sub-themes that will be addressed include, `Material Development, Publishing and Sustainability', "Building Literacy Culture in Families, Schools and Communities'."
He said that the conference was aimed at bringing together education stakeholders to discuss the challenges that have bedeviled the African continent and the global community in relation to education.
He said it was also to review policies and ongoing programmes  as well as share best practices that are yielding results, so that leaders and policy makers would use the opportunity to relate and share information.
Meanwhile, Mrs. Irene Mbanefo, the National President of RAN said the conference would be of immense benefit to Nigeria as people from over 40 countries are expected to be in attendance.
Mbanefo said that RAN was supporting a programme in Anambra State, where students on a particular day and time stop whatever they are doing to read their books of choice.
"This has encouraged the art of reading among students in the state. It is, therefore, our desire to ensure that this type of practice extends to other parts of the country," Mbanefo said.