By Godfrey Bivbere
Ndosimili Development Union of Ndokwa East, Delta State, has condemned the incessant attacks on Ndokwa East communities by Fulani herdsmen.
The union expressed worry that the deliberate destruction of lives and farm lands of Ndokwa East people was causing starvation for the people who are mainly subsistence farmers.
The union noted that aside huge losses caused by damaged food crops such as  yams, maize, pepper, cassava and others, running into millions of naira incurred by the people annually, their most agonizing experience was the continued pollution of the rivers and streams which remain their major sources of drinking water.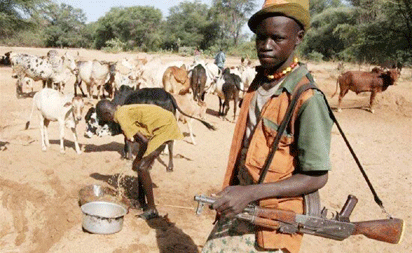 President of the union, Capt. Francis Adone, drew the attention of the Delta State Police Command to the atmosphere of fear prevailing in Ndokwa East, which has prevented people of the various communities from continuing with their occupation or even go to their streams, ponds and lakes to fish.
Noting the various attacks on Ossissa communities by armed herdsmen, including the recent ones that claimed five lives, the union noted that Ossissa community will be further plunged into penury as the people will record poor farm harvest this year.
Condemning the wanton destruction of Ndokwa East farmlands, the union lamented that many women and young girls of the communities have been raped by the Fulani herdsmen.
The union listed instances were several communities have been brutally attacked since  then to include Utchi in West bank of River Niger  in 1993, 2010, 2013, 2015, 2016 and 2017; Abala along  West Bank of river Niger and Ossissa along Ase Creek being attacked several times in each year.