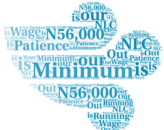 By Wale Akinola
…10 states can't pay workers' salaries, pension despite bailout
Comrade Aliyu Wabba is the President of the Nigerian Labour Congress (NLC). Wabba, in this interview, speaks on the N56,000 minimum wage demand by the NLC, the funds released to stae governments by the Federal Government to enable them clear the backlog of salaries and pension and the matters arising therefrom.

As of today, how many states are still owing workers salaries and pension, and what is the Nigeria Labour Congress, NLC, doing about the situation?
In this challenging period of our economy, it is very unfortunate that workers and pensioners are the worst hit. However the situation couldn't have been that bad if our political leaders especially state governors got their priorities right.
Our leaders here regard payment of salaries and pension as a waste but in other spheres payment of salaries is accorded top priority.
Let me state here categorically that the Federal Government has been making efforts to assist the states on the payment of outstanding salaries and pensions owed workers. In the first tranche of bail-out given to  states by the Federal Government, more than 26 states benefitted, but the irony of it all is that the more the Federal Government gives bail-out to the states, the less you understand what the states do with the money.
Many of the states have been diverting the bail-out meant to pay outstanding salaries and pension to other things, and this is why we are in the present situation. If the state governors have not been diverting the bail-out, the issue of workers and pensioners being owed would have become a thing of the past, and this is why NLC has now insisted that before the Federal Government gives further bail-out to the states, the state governors must be made to account for how the previous bail-out they collected was utilized. There is a need to insist on transparency and accountability on this issue, otherwise most of the state governors would not use the bail-out for the purpose for which it was meant.
Recently, the report and the news was all over the place about how a state governor diverted 3 million dollars from a previous bail-out collected from the Federal Government to build a five-star hotel in Lagos. This is very unfortunate.
There are many states that are still owing workers and pensioners but Kogi State is about the worst. The state government is owing workers between eight and 15 months salary arrears. The state government has been hiding under a verification exercise to delete some workers names from the state payroll but these workers are not ghost workers. The so-called verification exercise was a sham, it was a ploy to reduce the state workforce but NLC is not taking it lightly with the state government. What is happening today in Kogi is a big threat to the survival of workers and pensioners.
I think it is better for our political elites to change their present way of treating Nigerian workers with levity, otherwise the consequences that will follow nobody can predict. Nigerian workers are being pushed to the wall, and as the saying goes, there is a limit to human endurance.
Kogi is a peculiar state. I don't know why workers and pensioners there are being treated like that. With the way things are going in that state, with the series of  social vices like kidnapping,  armed robbery among others being recorded almost on daily basis in the state, Kogi is gradually degenerating into what some people describe as a failed state.
In the North Central, Benue is another bad case among states owing salaries and pension. Benue  is  documented by the ICPC as being among the states that diverted the bail-out meant to pay workers salaries. For now, about 10 states are not paying workers and pensioners as and when due.
Bayelsa is also on the list of debtor-states. The state is owing pensioners, teachers and civil servants. In the case of Osun, the state has been paying workers on the basis of percentage and that has also brought pains on workers, the same thing Oyo State is doing. Ondo State also has accumulated salaries that have not been paid.
But we also have examples of some states that are doing extremely very well and are workers-friendly. For example, Jigawa is not owing workers; in fact, the state has not collected any bail-out from the Federal Government. The state pays salary and pension as and when due, and if you retire today, you get your gratuity without delay. So you can see that it is a matter of state governors giving priority to what they are doing. It is sad and very unfortunate that most of these state governors have little or no regard for workers' interests – most of them regard payment of salaries and pension as a waste, and yet they live opulent lifestyle while feeding fat on the sweat of  workers.
We must commend those states that pay workers as and when due while we will not relent in defending the rights and interests of Nigerian workers. You wonder what is happening when states that are receiving less monthly allocation are meeting up with their obligations to workers like in the case of Jigawa and at the same time states that are receiving high allocations like an oil producing state like Bayelsa is owing workers and can't meet up its obligations to civil servants – this is why I said earlier that it is a matter of state governors getting their priorities right.
In order to save cost, and made more funds available to enable state governments meet up with some obligations like payment of workers salaries and pension, some people have canvassed the scrapping of security vote which runs into billions of naira and collected monthly by state governors. What do you think?
Security vote should be abolished. What do these governors do with billions of naira they collect monthly as security vote? Moreso the money is not even accounted for, security vote negate principles of transparency. Nothing is transparent about security vote and this promotes corruption, therefore it should be abolished.
If a state is not at war, why should a governor collect N1 billion monthly as a security vote which is not even accounted for? This is nothing but corruption – security vote is another avenue for looting.
Talking about the casualty arising from non-payment of salaries and pension, can you give us the number of workers and pensioners that have died as a result of being owed by state governments?
It is difficult to give an exact figure because we don't have a reliable data bank to give exact figure, but definitely many workers and pensioners have lost their lives as a result of being owed.
Even at verification centres set up by some state governments, several workers and pensioners have lost their lives while waiting on the queue to be verified. Even at a time in Kaduna, several workers lost their lives when there was a bomb explosion near one of the centres but where some of these tragedies occurred including that of Kaduna, NLC has insisted that the families of the workers that lost their lives must be compensated.
These workers and pensioners that have lost their lives as a result of unpaid salaries and benefits, we will continue to fight for their interests until their families are compensated. Let me also say this, the blood of these workers are on the head of the state governors and political leaders who failed to do the needful.
The Federal Government has promised to release another tranche of N500 billion as bail-out to assist states to clear outstanding workers salaries and pensioners benefits, but it was learnt that the release is being put on the hold as a result of the NLC insistence that state governors must be made to render account of how they spent the first bail-out given to them, how far is this true?
Yes, we insisted that the state governors should give account of how they use the first bail-out. What is baffling to us is that the more you give money to these governors, the more you don't understand what they do with this money. We have found out from both EFCC and ICPC reports that some state governors actually diverted the bail-out. This is not only unpatriotic but very shameful.
Some of them put the bail-out they collected in fixed deposits where they now collect huge interests, while workers continue to wallow in hunger. Some of them awarded bogus contracts that don't have meaning or relevance to the life of citizens. This is why we insisted that Federal Government should not release another bail-out without accountability being followed. Those governors that had earlier received the first bail-out should be made to account for how they utilized it before they are given another one. What the NLC is after is transparency and accountability, and good governance. We believe that both the high and the lowly placed in the society must be subjected to accountability – without accountability and due process, this country can't witness any meaningful development and growth.
Amid economic recession, and even the situation where several states are owing workers, NLC has demanded N56,000 minimum wage. How realistic is this in view of the present challenges?
I've told you earlier that issue of payment of salaries and pension as and when due is not only about availability of funds, it is about states getting their priorities right. Secondly, the recession issue is not an excuse not to increase minimum wage. All over the world, economies bubble and also got burst. Everything is about planning and having foresight, and this is what our leaders lack. Visionary leaders are few in this clime.
In 2011, we signed a minimum wage of N18,000, but it was mutually agreed that after a period of five years there would be a review. If you also look at the present economic challenges, inflation is soaring with the attendant results – some of these include high cost of goods and services, what all these mean is that N18,000 is no longer realistic.
In 2011, N18,000 was equivalent to 119 dollars, but today the value of N18,000 is less than 46 dollars. So on the basis of fact and on the basis of economic reality, it is very clear that N18,000 is no longer realistic to take care of a worker and his family. This is the fact we are putting on the table, and it can't be controverted.
Nigerian workers are passing through a very difficult period. You are also aware that during the same period, th Federal Government increased the price of fuel, a commodity that determines the price of nearly every other commodity in Nigeria. Fuel price was increased from N86 to N145. Electricity tariff was also increased by more than 50 percent and workers salary has remained on the same spot, so how do you expect worker to cope with these challenges?
Nobody can controvert the fact that workers have even been pushed to the wall. They can't pay their bills, they can't maintain their families. Most of their children can't go to school. The purchasing power of a Nigerian worker today has been virtually reduced to zero. Even how do you want to address the problem of corruption if workers are not well paid to enable them meet their own domestic obligations?
All over the world, the empirical data that is being used to address the issues of salaries are inflation, cost of living index, purchasing power parity and these are some of the things the NLC take into consideration before demanding wage increase. We have even been very moderate to demand N56,000 minimum wage considering the present economic challenges. We made this demand since May last year but up till now we are still waiting for the Federal Government to do the needful. Nigerian workers are patient but they are being pushed to the wall.
What has been the response of the Federal Government to the wage increment demand?
The Federal Government has agreed in principle. A technical committee to work out the detail has been set up, and the NLC participated fully. The report of that committee has been transmitted to the Presidency, and we are expecting that the Federal Executive Council should immediately approve the recommendations of the committee. The ball is in the court of the Federal Government.
Some people have expressed concern that the crisis in NLC with the factionalisation of the apex labour body might hamper negotiations with the Federal Government over the wage increment. What's your view?
We don't have factions in NLC. NLC is one united body. Those people you are even referring to have openly stated that they are not a faction of the NLC.
Convention 144 of the International Labour Organisation, ILO, which Nigeria has ratified, explicitly states that the most representative labour centre would negotiate on behalf of the Nigerian workers, and today, the  NLC is the most representative labour centre in the country – there is no dispute or controversy about that. That's why the NLC and TUC have come together to negotiate on behalf of the Nigerian workers. Nigerian workers know their true leaders. It is only a section of the media those people you refer to are using to propagate their propaganda. NLC is one, and we will continue to pursue and protect the interests of Nigerian workers.
All through history, you see one group or the other trying to undermine the interests of the larger and the more acceptable group, but what is usually the end of those who do such, they get consigned into the dustbin of history.
All through history again, there is nothing workers have got on a platter of gold, it has always been through struggle that our demands are met. But we will not relent until we get what we want for Nigerian workers. Since 1889 when we started canvassing for 8 hours working day per week up till now, it has always been struggle and nothing but struggle. No employer will willingly increase your salary unless you demand for it. We will continue to provide dynamic leadership for Nigerian workers, but workers should not expect that we will get these things on a platter of gold.
Go through history, labour always struggles to improve workers condition of service.