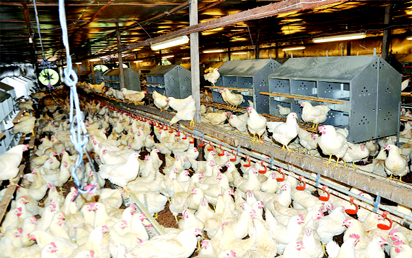 AT a time the Federal Government is seriously pursuing diversification of the economy, with agriculture as the major focus, the South-East may soon become the highest supplier of chicken and eggs in the country, with the massive investment in this line of business of late.
Indeed, at Umueze village, in Ihiala Local Government Area of Anambra State, the multi-million naira investment has lightened up the community, making the influx of people and heavy load vehicles conveying equipment and materials therein a daily occurrence.
At the centre of this, is Mohaz Integrated Farms, which goes into full scale production in a couple of weeks. A visit to the site, which has a land mass of about 125 hectares, would keep the visitor dumbfounded due to the enormity of the work going on and the vision of the Director, a son of Umueze, Ogbuehi Michael Obi Ohazulike.
Already, the multi-million investment has started skeletal production with just a section of the poultry farm, where it is presently producing about 950 crates of eggs daily. Ohazulike said that they were doing six houses of poultry production now.
Poultry production
He said: "Here, we have about 15 hectares of land, hectares not acres of land and also when you move down there, we have about 110 hectares where we plan on cultivating corn, that is maize as well as soya beans, somewhere around the river there.
"We intend to produce egg in large numbers, maybe about 4, 000, 5, 000 crates everyday here. At the moment, we produce about 900 crates; over there we have two big houses of about 60 metres by 15 metres each, where we house about 10, 000 birds each. From each house, we produce about 300 crates of eggs every day; so looking at those two houses over there, we can get about 600 crates of egg every day and from the other side of the farm, the breeder house, we have about 350 crates of egg every day. In total, we are looking at about 950 crates of egg currently under production here every day."
When fully operational, the farm would be the first in Nigeria to have commercial turkey production, it is also expected to produce tomatoes in the house.
Speaking on the new structures and the integrated project, Ohazulike said: "It is an integrated project; we are doing poultry, and eventually we will also do dairy, that's meat production and, of course, horticulture, tomatoes production. We intend to build green houses. By green houses, I mean you produce tomatoes in the house without soil. It is an innovation. Basically, this is a fully automated building. Here we are planning to produce about 60,000 birds here.
"They are going to live inside one building; so 60,000 layers from a day old to production. It is going to be in a fourth tier system. By fourth tier I mean one, two, three, four; that is four rolls; so we could have about 5, 000 birds in each tier. In one session of the tier, in one roll, we are having about 15, 000, 16, 000, maximum 20,000; so in the house total of four rolls we are going to have approximately 60, 000 minimum of birds in one house. So we plan on controlling the environment; you can see the openings on this structure; we are going to run a pad cooling system; we are going to stabilise the temperature here to ensure that the birds do not get distressed from the heat. Basically, it is a thermo controllable building; by this I mean, we can control the temperature inside here.
"These are insulated roof, insulated sandwich panels. For instance, if you look in between the panels, you will see sandwich foam; it acts like heat repellant. Of course, it absolves the heat and makes sure the temperature inside the building remains how you want it. With the birds, you don't have to go beyond 32 degree Celsius, otherwise your birds will be gone; so any thing below 32 that's what you want. It is fully automated system, just put on your power, plug in your wires, set up your computers and you go to sleep; it functions on itself. Everything, from the fixed system, from the drinking, from the egg control, everything automated."
Ohazulike is not just investing in agriculture because it is where the money is now; he has acquired enormous skill through training in many countries of the world, including Israel, Germany, US, Italy, Holland and France and has the technology on his palms.
On where his inspiration came from, he said: "Basically, I will say that it has been like a hobby to me. From childhood I enjoyed raising birds and eventually I travelled out of the country to Holland, where I trained in agriculture, particularly, poultry production at the PAS Reform Academy in Zeddam Holland and eventually I came back here in 2006, got married in 2007 and decided to invest in the production of poultry.
Production of protein
"There have been some challenges here, but we bless God; we try to survive. It has been a challenging task but we improve everyday by day, we want to contribute our quota to the production of protein, that's birds for meat in my state and eventually in the nation in general.
"Well, 50 per cent of what I am doing here I learnt from PAS Reform Academy in Zeddam Holland and then 50 per cent I got from the practical knowledge I acquired during those practical trainings over the years around the world, in Israel, Australia, France, Germany, Italy, US, Canada, just to mention but a few.'
However, not withstanding the government's constant call on people to invest in agriculture as alternative to the oil and promises of free duty for agricultural equipment, Mohaz had difficulties in bringing in equipment for its farm and had to pay exorbitant fees as duty with the Customs.
Speaking on the challenges being faced, Ohazulike said: "I would say power supply is our greatest challenge, stable power supply. We don't want to mention payment of duties because it has been very challenging with the Nigeria Customs. Well, they are doing their job, we know, but sometimes the government needs to come into this because we need to get some incentives.
"With these structures, we don't want to pay 20 per cent on the duty, these are agricultural equipment, we want to go for zero per cent; may be maximum five per cent on the duty, but the Customs billed us 20 per cent as the duty payment. I mean it discourages every potential investor in the industry and if government starts doing something for us, by means of giving us incentives, giving us rebate in the importation duty, I think the industry will grow; otherwise they are crippling the industry by charging 20 per cent duty on a poultry building structure like this one."
The Ihiala community has already started benefiting from the building of the farm. The project has created employment. The has also cause a boom in the economy, as those selling food, providing accommodation are already smiling to the bank.
Speaking about the benefits to his people, the Mohaz boss said: "We have about 37 workers now who are paid.  We are planning on hiring more, on the completion of the project. I think this is a direct contribution to the immediate community's economy. We are giving them employment, putting food on the table of the people.
"When we start production, many of the villagers will buy from us and sell. Those on transport business will have field day. So we are providing direct and indirect employment."
Speaking about same farms in the country and why Mohaz farm is different, Ohazulike said: "I believe you have a couple of this kind of structure in the country. There is this one at Igboariam and I know there is also one in Enugu, Finoma, maybe not as large as this. I know there are a few others in Ibadan, Zatech, Agrited and CHI.
"However, it is a different concept here and by this I mean, ours is an innovation. Other farms don't have a special rearing house; we have that here. We will rear in cages and transfer over there and produce in cages, because there is a difference when you rear on floor and introduce them in cages; they will perform but not optimally. When you rear them in cages, they are adapted to the cage system; when you transfer them for production from week 12, they know they have been in cages and is not a new thing laying in cages. They feel save, they feel confortable. It is better rearing in cages and producing in cages."
Ohazulike, who noted that the business is not an easy one, however, advised those in it and those wanting to join to be focused, determined and not to chicken out at slightest push.
According to him, "with training, focus and dedication, you will excel. In the industry, you need to have focus; you need to be dedicated and you need to have passion for the business, otherwise it will go down."
Commenting on the Mohaz Integrated Farm, a community leader, Ogbuehi Sabestine Oraeme said:  "We came here, saw the huge project he is embarking upon and we have been encouraging him.
"You can see that he is already bringing employment to the community and with that you can see a lot of increase in activities around here, houses and everything. The community is bound to benefit. The local government and by extension the state will benefit; so it is a great thing that we have him and we encourage many of our other sons and daughters who are doing well to also think home and invest like he is doing."
A 200 level Zoology student of Nnamdi Azikiwe University, Awka, Miss Ogechukwu Obidinna, who is on Industrial Training in the farm, describe her experience as beautiful, stressing that the farm had changed her perception of poultry farms.
She said: "I have been here for two weeks, but the experience has been wonderful and vast. What I have seen here is not what I used to hear about poultry because this is more than poultry. Here the environment for the chicks is conducive and the treatment given to them is excellent and their production is great."