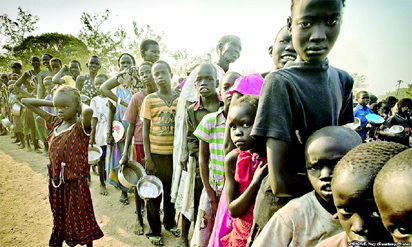 malnutrition
By Chioma Obinna
Nelson Mandela once said, "There can be no keener revelation of a society's soul than the way in which it treats its children."   These words should serve as a guide to developing countries like Nigeria to undertake measures to ensure the future of their  children. Today, failure  on the part of governments, individuals and organisations to arrest the devastating effects of child malnutrition may be jeopardising a safe and sustainable present and future for the Nigerian children.  A case in point is the devastating impact of malnutrition in children in the North-East.
Through out the nine months period of pregnancy, the dream of 40-years-old Aisha Abdullahi, was not only to be delivered  safely but also to nurture a  baby that will grow healthily into adulthood.   She was hoping to have a child that will grow into a successful young man and  possibly  become a lawyer or a politician.   She had also wanted a child who would always be  brilliant  in class and the envy of other parents in her community.   But little did she know what life held in store for her. Few  months into her pregnancy, they were displaced from their ancestral home.
Right inside the outpatient centre of the Community Management of Acute Malnutrition, CMAM, Nassarawo, Health Centre, Yola, Adamawa State, sat Aisha in a posture that cast the image of a helpless mother. She  sat on a wooden bench alongside other mothers with her ailing child.
Aisha was among hundreds of mothers whose babies were receiving treatment for various stages of malnutrition.
Aisha's child had  been struck with a condition associated with insufficient nutrients needed for child's development, no thanks to Severe Acute Malnutrition, SAM. According to the World Health Organisation, WHO, malnutrition refers to  deficiencies, excesses or imbalances in a person's intake of energy or nutrients.
"He (Mohammadu) was born premature at eight months, due to eventful pregnancy apparently due to the stress I went through.   We are not from this state. We were moved from Borno State due to Boko Haram insurgency to an IDP camp in Adamawa."
Imagine being pregnant and not living in a comfortable home and not knowing where your next meal will come from.   That was the fate of Aisha. "I was sick all through the pregnancy. It was so serious to the extent that I was hospitalised for four days before he was finally  born. He is my 11th child. At age one, he is yet to crawl or attempting to walk."
Following the events surrounding his  birth, Aisha was advised to breastfeed him exclusively, as part of the efforts to guarantee proper nutrition within the 1,000 days window. During that period, Mohammadu was hale and hearty but his trivial started at the end of the six months exclusive breastfeeding which is a crucial period when mothers switched over to complementary feeding for their infants.
"When I stopped exclusive breastfeeding, I started giving him pap and kunu. To our greatest surprise, he started losing weight.
"His condition worsened after he had a bout of diarrhoea, which automatically changed his situation till date."
"But I am happy he is improving since we started coming here for the Ready- To- Use Therapeutic Food, RTF (treatment for malnutrition), which is being provided free of charge by UNICEF. Last week, we were here but it was not available but we are lucky they have it today."
However, while Aisha is happy that her child is recuperating, her fear is that she may not be able to provide the foods she had been told to cook for thim. "We were told we will be rounding off the treatment in four weeks time but I am hoping that I will have enough money to buy the foods I have been  told to give him, "she said.
The story of Aisha and her son Mohammadu is no different from that of two-years-old  Fatimah Umoru who is also, a victim of SAM.
Fatimah's mother, Hafsat Umoru, could not do exclusive breastfeeding as she claimed that her breast was not bringing out enough milk for the baby. This made her to combine breast milk, kunu and water. Unfortunately, her action caused more harm than good. Fatimah is down today with malnutrition.  Unfortunately, neither Hafsat nor Aisha is aware of the negative impact of malnutrition on the future of their children.   Another mother, Amina, of 10-month-old  Ahmed, also narrated how her child came down with malnutrition.   According to her, Ahmed was brought to the centre after she had series of diarrhoea which affected her health. "This is my first time at the clinic. Ahmed had weight when I gave birth to him but she started losing weight at four months. We have been managing him at home because we do not have enough money until last week when it became worse and we decided to take him to the General Hospital. Getting there, we were referred to CMAM Centre, Nassarawo, Yola".
Mohammadu, Ahmed and Hafsat's predicament is typical of the situation many children in the North-East affected by devastating Boko Haram insurgency found themselves. The level of poverty and education on the part of their mothers could not help either. They are part of the United Nations Children's Fund's estimated 400,000 under five children that will suffer from acute malnutrition in  north-eastern Nigeria due to Boko Haram crisis and the already affected 695,998 malnutrition cases in the geo-political zone with 134,000 annual deaths.
According to statistics from the 2016 National Nutritional Survey (SMART Method), 11.9 percent of children in the North-East were affected annually   under the Global Acute Malnutrition, GAM, 9.5 percent died   while some of the states fall among those that were above warning threshold for prevalence of GAM, and SAM.
Nationwide, 2.5 million children are suffering from SAM, and 500,000 of them risk death annually if nothing urgent is done to rescue them.
However, a visit by  Sunday Vanguard  to some of the CMAM centres showed that many mothers whose  children have completed treatment have refused to quit coming for RTF. Our reporter also gathered that some of the already treated cases sometimes relapsed due to inability of the mothers to comply with the recommended method of feeding for the children.
A Nutrition Focal Person in Yola  North Local Government Area, Adamawa State, Nacha Bitru, admitted to Sunday Vanguard  that the cases at the centre were  overwhelming, adding that not less than 15 to 20 new cases are recorded every week.
Bitrus, however, lamented that some of the cases of children treated relapsed due to the inability of the mothers to continue with the right foods at home. "We teach them what to do, how to feed the children but to be able to remain in a good state of health, poverty must be addressed. Government should begin to think of how to alleviate poverty. When parents are empowered, they will be able to take care of their children", she stated.
According to her, there have been several success stories as the LGA only recorded one death since this year.
She, however, noted that despite the magic done by RTF, which people have nicknamed 'miracle food' due to its effectiveness, many mothers still don't take advantage of it.
Bitrus explained that to ensure that  children are brought out from their homes for treatment, she set up Young Child Infant Feeding Programme made up of  women who go into the villages to fish out affected babies.
Admitting that ignorance was a big problem among the mothers, she said to tackle the problem, the centre initiated health talk for mothers on the kind of foods to feed the children after they have been discharged to avoid relapse.
Meanwhile, a UNICEF's Nutrition Advocacy Specialist, Dr. Zacharia Fusheini, says  malnutrition in adulthood is irreversible.
"The first 1,000  days  is the period when  children are more vulnerable and can easily fall to malnutrition. If you don't prevent that, most children get stuck. For instance, during the 1,000 days period, when stunting sets in a child, it becomes irreversible. The worst thing about stunting is not just about the physical shortness that we see  but it is about the brain, body organs and the invisible ones that we are not seeing and that is why some children drop out of schools, it affects their intelligence and performance.
"There is also wasting which is the severe acute malnutrition, there is also under weight and micronutrients deficiency like iron, zinc, iodine and vitamin A etc."
He explained that when a child is stunted at adulthood, they lose their optimal productivity so they can't perform as a normal person who was not stunted.
Fusheini said malnutrition can cause diet-related diseases at adulthood. "When children are malnourished, there is also evidence that in adult, they get complications of diseases including diabetes, hypertension, and other chronic diseases and blood pressure etc", he said.
Corroborating his views, the Head of Nutrition, Federal Ministry of Health, Dr. Chris Osa Isokpunwu, said Nigeria is one of the highest contributors of under-five mortality in the world with annual death of about one million under- five children and about half of the death is due to malnutrition.
Isokpunwu said children that survived malnutrition often become stunted which is a major indicator used to measure childhood malnutrition.   "Poor physical growth and brain development resulting from poor nutrition in children make them not to thrive and live to their full potential."
Citing SDG Goal 2, which points to zero hunger, he posited that for Nigeria to join countries that would end hunger, achieve food security and improved nutrition and promote sustainable agriculture by 2030, as well as end all forms of malnutrition, there is need for the country to invest in nutrition.
In her submission, a UNICEF Nutrition Specialist, Bauchi, Philomena Irene, said although there are pockets of malnutrition in every part of the country, the cases are more in the North, particularly in the North East apparently due to insurgency.
Irene who stressed the need to address the immediate cause of malnutrition as inaction at any level could lead to the condition, added that with investment of USD $1 in nutrition, the country will get USD $16 in return.
"If government do not spend the $1 needed to prevent malnutrition now, $16 would be spent on the numerous diseases that malnutrition causes in the future."
Irene noted that improving nutrition during the critical 1,000 days window from a woman's pregnancy to her child's second birthday has the potential to save lives; help millions of children develop fully, as well as deliver greater economic prosperity.
Lamenting the low rate of exclusive breastfeeding in the country, she called for policies that would promote breastfeeding culture.
Irene explained that only USD $5 dollars are needed to prevent malnutrition in a child while a total of USD $71 dollars are also needed to treat each of Mohammadu, Ahmed and Hafisat, respectively.
Irene while justifying why there is urgent need to tackle pervasive problem of malnutrition, particularly in the North East, explained that half of the pre-existing health facilities in the zone have been damaged.
On the situation of the burden of malnutrition in states like Borno, she said statistics from the Global Acute Malnutrition, GAM, showed a total of 244,268 have Severe Acute Malnutrition, 241,584 Moderate Acute Malnutrition, MAM, while 183,352 an breast feeding women are malnourished.
She stressed that if there is no urgent intervention 19 percent of these children may be lost.
Irene maintained that to avert more deaths from severe acute malnutrition, all the 36 states of the country must play their part by contributing to SAM intervention services, such as the Community-based Management of Acute Malnutrition, CMAM being operated by UNICEF.
"Only four states, Kaduna, Gombe, Bauchi and Sokoto have contributed fund in 2016 towards the purchase of Ready-To-Use-Therapeutic Food (RUTF), the major intervention for severe acute malnutrition.
Report made available at the media dialogue organised by UNICEF with the theme: "Investing in child Malnutrition for the Future" showed that Kaduna contributed the largest sum of N300 million with Sokoto, Gombe and Bauchi contributing N50 million, N17 million and N10 million, Jigawa State has approved N150 million for the purchase, but the money is yet to be released.
However, while the rate of malnutrition continued to soar higher on daily basis, health watchers are worried that if adequate investments are not made in nutrition, the country may end up with a generation of sick people as malnutrition is associated with non communicable diseases such as diabetes and obesity among others in adulthood.