By Emmanuel Aziken, Political Editor
Senior Special Assistant to the Vice President on Legal Matters, Dr. Bilkisu Saidu has dismissed recent social media campaign about alleged anti-Islamic slant in appointments made by and in the office of the Acting President, Prof. Yemi Osinbajo.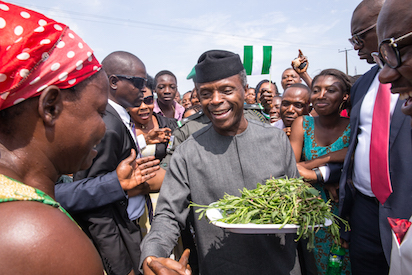 Dr. Saidu who described the charges of nepotism as "laughable, untrue, unfair and should not be taken seriously," said that on the contrary that senior appointments even in the office of the vice-president had Muslims in the ascendancy.
Dr. Saidu, a former law lecturer at the Usmanu Dan Fodiyo University Sokoto before her appointment in the Office of the Vice President, spoke in an interview programme on BBC Hausa Radio on Sunday. Transcripts of the interview were made available from her office.
"If you are talking about religion, the most senior official or position in the Office of the Vice President apart from the Vice President himself, is the office of the Deputy Chief of Staff to the President and the name of the person occupying that office is Abdulrahman Ipaye, and he is a Muslim.''
"The positions following the Chief of Staff's in the order of hierarchy are the Special Advisers in the Office of the Vice President. Here there are three Special Advisers and two out of the three Special Advisers are Muslims, Senator Babafemi Ojudu and Barrister Mariam Uwais from Kano State,'' she added.
Noting that a cursory look at the other senior positions in the Vice President's office indicate that religious consideration was never a factor in the appointment of the officers, she said "If you look at the remaining senior positions in that office, most of them are in the hands of Muslims from the north.''
"For instance, the person in charge of Protocol (i.e. the Director of Protocol) is Ambassador Abdullahi Gwary from Yobe State; those in charge of welfare and health in the office of the Vice President are mostly Muslims and from the north.
"Worthy of note are the stewards, those who serve the Vice President's meals, they are mostly Muslims, so what do the critics mean when they talk about religion.''
Concluding she said, "when people lack what to use or have exhausted all avenues to speak evil against perceived opponents or ridicule the good works that they are doing, they resort to use of religion or other means possible to damage the image and reputation of that opponent.''