Masaka (Nasarawa State) – A 45-year-old landlord, Mike Onyoku, on Wednesday dragged his tenant, Oluche Igwe, before a Chief Magistrates' Court in Mararaba, Nasarawa State, over alleged N56, 000 rent arrears.
Onyoku told the court that the defendant is a yearly tenant in his house, situated at Kabayi, Mararaba in Nasarawa State, where he is occupying one bedroom flat at the rate of N100, 000.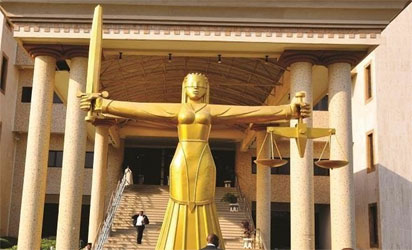 The plaintiff averred that the rent expired since November, but he refused to renew his rent or move out of the apartment.
Onyoku told the court that the defendant is now in arrears of six months' rent, from November 2016 to May, 2017, amounting to N50,000 and outstanding balance of N6,000 for the 2016 rent.
The plaintiff told the court that he is not interested in the money, stressing that he should go with the arrears.
Onyoku said that the defendant refusal to pay or vacate the apartment had affected his finance to the extent that he finds it difficult to pay his children's school fees.
The plaintiff prayed the court to help him evict the defendant, saying that he can only give him three months to look for accommodation and pack his property.
Igwe, who did not deny the allegations levelled against him, appreciated the court and thanked his landlord for his kind gesture.
The Chief Magistrate, Mr Patrick Epu, advised the defendant to look for alternative accommodation or squat with friends.
"You can look for a room or stay with your friend since you are not yet married.
"You are still young, go out and look for work to do, instead of staying at home doing nothing.
"Thanks to your landlord, who is no longer interested in the rent arrears you owed him and had also given you three months to look for alternative accommodation, "the magistrate said.
Epu ordered the defendant to vacate the apartment before Sept. 19 and adjourned the case until Sept. 20 for report of vacation.