Oseloka Obaze, an aspirant in the forthcoming November 18, 2017 Anambra governorship election, he was a senior United Nations official before serving as Secretary to the Anambra State Government in the Peter Obi and Willie Obiano administrations. In this interview, Obaze speaks on his plans and purposes ahead of the contest among other issues affecting the country. Excerpts.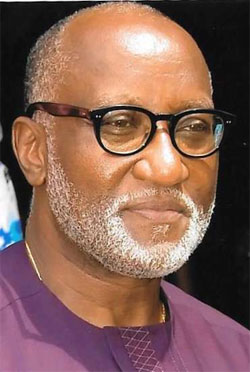 By Vincent Ujumadu
HOW would you rate your profile now in the eyes of the Anambra electorate?
We are well known and acknowledged by the people across Anambra State.   The grassroots and the elite alike, appreciate fully our past service and unfettered commitment to good governance. The electioneering is yet to commence, when we arrive at that juncture, we should be able to showcase a governance platform, which should make us the most  credible alternative and leadership choice.
The leadership crisis in your party, the PDP appears to be keeping aspirants on the platform of the party on edge. Do you have confidence that the matter will be settled soon to pave way for the party's primary and emergence of a flag bearer?
I am by nature an optimist; and by training a problem solver and conflict resolution practitioner. But I am also a realist.   When a conflict is not ripe for resolution, any forced attempt will fail.   But when the cost of collective failure outweighs the cost of individual success, people tend to come around. There is still ample room to rally the forces and the key PDP players in Anambra are hard at work to find a mutually acceptable solution.
Are you confident that you will secure the party's ticket above people that had been in the party for so many years?
If you get to the finals of any competition with your second team or third team, you stand the risk of losing.   If you put forth the best or most qualified and most credible player or candidate, your chances of success become greater.   Without any disrespect to those who have been in the party for so many years, the question is, did they deliver? Did they win?   If they did, the party won't be outside the government now. My hope is that we can rally all party players to a consensus and that the key players especially the recurring aspirants won't become spoilers.
Your zone, Anambra North and Ogbaru, your local government and even the traditional rulers are consistent in saying that Obiano is their candidate and that he should be returned. Are you not worried by this?
You engage in collectivized assertion and attribution. Who are these people? Are they the same people I am consulting and talking to? Or are they the hirelings that parrot the master's voice for crumbs off his table? You must understand that we are in a recession. People need to eat; but they do have conscience. Moreover, I'm least perturbed by such utterances, by people who are unconnected with their grassroots and have never secured victory at their respective polling booths.
You served under Obiano, what are you going to correct now that you did not do then?
I served well, loyally, honestly and diligently. I offered unvarnished advice and counsel. Yet, every leader brings to public office his vision, style and political and leadership DNA. Purposeful leadership is about management style, focus and a full grasp of the imperatives of good governance. If you know how to make institutions function efficiently, that is half the battle; if you don't, then you will have to grapple with a dysfunctional government. So it is not a matter of correction as it is a stylistic and operational. We will offer accountability, cost-efficient  optimization of institutions, full adherence to extant laws and due process, and unfettered service delivery all within available  resources. We will make grassroots development and the efficacy of our local government and municipal council system the cornerstone of our governance. We will hold local government elections as required by the Constitution.
Will you truthfully return power to the South in 2022, if you win the 2017 election in the state? 
I certainly will. I have to honour any deal made by our zone or by me in that regard. That is the only way to begin to reshape our politics and dispense with the notion that you can't trust politicians.   Moreover, I am a student of politics and history; we are witnesses in this country to what happens when deals and promises are not kept.   By 2022 Anambra North would have completed eight years; there should be room for others to contest.
Can you let us into your manifesto?
I will unveil my manifesto at the appropriate time. It is very simple to understand and simple to implement. It will deliver good governance in every sense of the word. With it, those in government will work for the people and not for special or vested interests. There will be accountability and transparency in government and we will put our people back to work. I will not disclose the key elements now, since we have noticed that people in the other camps appropriate my policy ideas and policy recommendations without the decency of giving us any credit.
A new political party, Advanced Peoples Democratic Alliance (APDA), has just been formed and the belief i s that many chieftain of your party, PDP part of it. Where does PDP stand in this?
Party politics is about accommodation and convergence of ideas, more so, where our parties are not ideologically based. The beauty of democracy is pluralism and broad representation.