Abuja – Some legal practitioners in the Federal Capital Territory have expressed renewed confidence in Justice Adeniyi Ademola as he resumes sitting after he was arraigned, discharged and acquitted by an FCT High Court.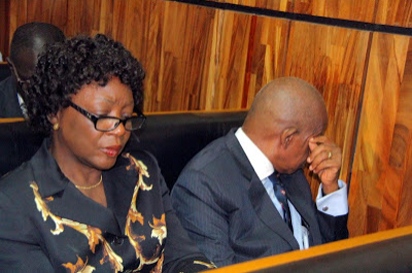 The Federal Government arraigned Ademola, his wife and his lawyer, Mr Joe Agi (SAN), on an 18- count charge of criminal conspiracy to receive gratification in various ways on Dec. 13, 2016, but were discharged and acquitted on April 5, 2017.
One of the lawyers, Mr Femi Morohundiya, said that Ademola's resumption was a great relief to him and his clients and an encouragement to the judiciary.
"It is a great development for the judiciary because (although ) the Senate President is under attack by the executive he is there presiding over the (senate).
"What more, the judge here has been cleared so we welcome him back to the judiciary to continue with his duties?
"The charges were too hasty and it shows that they did not do proper work before going forcefully into (Ademola's) house.
"We must learn to do things properly in this country or else the whole system will just collapse.''
Morohundiya expressed concern with the capacity of the Economic and Financial Crimes Commission (EFCC) to properly investigate crimes, following the shoddy handling of cases affecting some judges.
On his part, Mr Steve Eke said that he and his client were happy to be back in court to get the justice that seemed delayed following the trial.
He noted that since the prosecuting agency could not prove their allegations, they were only false allegations.
"We feel happy coming back to this court and my client is not worried about coming back to this court because we have waited this long to have justice done.
"We are confident that justice will be done in this court, so the resumption of the court is a good one for us.
"He went through the whole haul of trial, they put their evidence and they could not prove their case, it shows that from the beginning, the allegations were false, otherwise they would have been able to prove their case,'' Eke noted.
Another lawyer, Mr Kephas Gadzama said agencies of government should be diligent in the discharge of their duties adding that they should desist from being parochial in their approach to work.
Ademola resumed sitting on June 7 following a directive by the National Judicial Council (NJC) for him to do so.
NJC at its 82nd Meeting on May 31 and June 1, considered the case of eight Judicial Officers who were directed to recuse themselves from duties.
The directive was on the request of the Attorney-General of the Federation pending the outcome of investigations against them.
​After deliberation, the council noted that out of the Judicial Officers directed to recuse themselves from performing their official duties, only three had been charged to Court.
Subsequently, the council asked the various Heads of Court to direct Ademola and five other judges to resume their judicial duties with effect from June 7 to attend to backlog of cases in their various courts caused by the eight months absence.
Subscribe for latest Videos