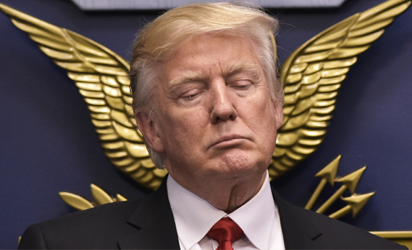 US President, Donald Trump
Indian Prime Minister Narendra Modi vowed after meeting French President Emmanuel Macron Saturday to go "above and beyond" the Paris Agreement on climate change, after the US said it would quit the deal.
Two days after US President Donald Trump sensationally announced plans to withdraw from the pact on curbing carbon emissions Modi said India would "continue working… above and beyond the Paris accord", calling it "part of the world's shared heritage".
The agreement signed by 195 countries in the French capital in 2015 "can protect future generations and give new hope", he said after two hours of talks with Macron at the presidential Elysee Palace.
Macron said his discussions with the leader of the world's fastest-growing major economy had focussed mainly on the environment.
"I want to restate here France's full commitment to the fight against climate warming," said the French president.
Macron has led Europe's defence of the Paris accord, endearing himself to opponents of Trump's stance.
Reacting to Trump's announcement on Thursday, Macron issued an appeal in English to "make the planet great again" — a play on Trump's pledge to "make America great again" that has been retweeted a quarter of a million times.
Trump has accused China and India of getting an easy ride compared to the US.
Modi said protecting "mother Earth" was part of Indian culture.
"For Indians, environmental protection is a profession of faith because we learn it in the vedas (ancient Hindu scriptures)," he said.
India, which accounts for 4.1 percent of global emissions, has not agreed to cap or cut its emissions outright like other countries but has said it will massively increase its use of green energy.
Arriving at the presidential palace the 66-year-old Indian nationalist hugged 39-year-old Macron, in scenes contrasting with Macron's clenched-jawed, white-knuckle handshake with Trump in Brussels last week.
An enthusiastic Modi said the French centrist's election had "encouraged the whole world".
Macron said he would visit India, the world's third-largest polluter, by the end of the year for a summit on solar power — an area where the two planned greater cooperation and on which they hoped to rope in "many other countries".
– Twitter battle –
Trump's decision to scrap the Paris deal has left him isolated on the world stage and prompted a backlash at home, with several state governors, city mayors and powerful companies already drawing up plans to meet the pact's emission targets — with or without Washington's backing.
At least two Republican governors announced Friday they were partnering with Democratic-run states to combat climate change.
The White House has hit back at the criticism, accusing Europe of trying to "shackle" the US economy and refusing to acknowledge climate change is real.
"We have nothing to be apologetic about as a country," Trump's top climate advisor Scott Pruitt said Friday — despite the US being the world's second-largest emitter of greenhouse gases after China.
Billionaire climate advocate Michael Bloomberg made an unannounced visit to Macron in Paris on Friday to discuss bolstering the pact.
"Today I want the world to know the US will meet our Paris commitment, and through a partnership among cities, states, and businesses, we will seek to remain part of the Paris agreement process," Bloomberg said.
Bloomberg pledged 15 million dollars to support the agreement's coordinating agency in the event the US refused to pay its share.
In a sign that France intends to lead resistance to Trump on climate change the foreign ministry on Friday published a pointed rebuttal of his claims about the Paris deal on Twitter.
Using digital red ink to edit a White House video slamming the deal, the ministry for example changed Washington's claim that "The Paris accord is a bad deal for America" to "Leaving the Paris accord is a bad deal for America and the world".
Macron on Thursday invited US scientists, business people and citizens frustrated with the White House's stance to move to France, assuring them of "a second homeland" across the Atlantic.