Ekiti state governor, Ayodele Fayose has reiterated his desire to land the number one job in the country when the opportunity comes calling.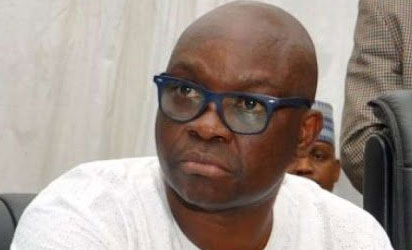 The governor stated this when he met with political office holders at the Government's House, Ado Ekiti. He went ahead to say that  former governors Segun Oni and Kayode Fayemi who are nursing the ambition of contesting in the forthcoming governorship election will fail.
Speaking, Fayose said "Just because Ayo Fayose has won a second term to become governor of Ekiti, some people also think they can come back now, but I want to tell them that it is not possible. I am the man wholeheartedly loved by Ekiti people because of the many developmental projects that have brought great infrastructural and developmental advancement to Ekiti.
"If you go around Ekiti, you will see my handiwork dotting every nook and cranny of the state. This is why I am the man who every Ekiti people will follow in 2018."
"I have penchant for taking powers; that one in Buhari's hand. I will take it. I'm going straight to that villa. I'm the next president.
"I want to be the next president of Nigeria. My own won't be this change that has brought nothing, we are going to represent the people well and tell them the truth."