By Olasunkanmi Akoni
Elder Statesman and former Federal Commissioner for Works and Housing, Alhaji Femi Okunnu yesterday, expressed sadness over the current status of the Federal Secretariat in Lagos and other abandoned and surplus assets of the Federal Government in the State, urging that the assets be returned to the State Government for effective and proper usage.
Okunnu, who is a Senior Advocate of Nigeria, SAN, spoke at Lagos House in Ikeja while presenting the report of a Special Committee set up by Governor Akinwunmi Ambode on Federal Government Assets in the State, which he chaired.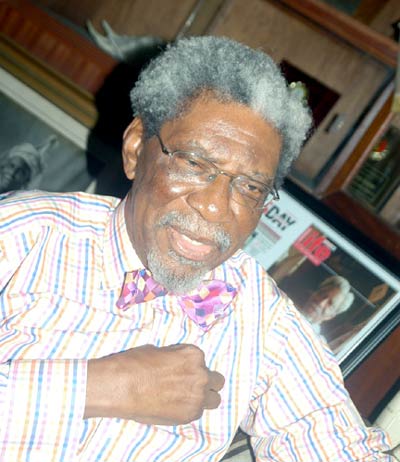 He said Ikoyi, Banana Island, Osborne Foreshore, Festac Town, Satellite Town, Trade Fair, among others belonged to Lagos State Government, and title of the lands were vested in the governor, urging the Federal Government to hand over the assets to the state government.
Okunnu said the issue of Federal Secretariat in Ikoyi was particularly saddening to him for the fact that it was during his tenure as Federal Commissioner for Works that the structure was constructed.
"Federal Secretariat gives me sadness because I built it when I was the Federal Commissioner for Works. The land upon which the secretariat is situated is part of the Crown land now State land," he said.
"The title is vested in Lagos State but when he was Governor of Lagos State, Brigadier General Omobola Johnson (Rtd) agreed to release that land to Federal Government when they wanted to build Federal Secretariat.
"Today, I don't like to pass through that side because it gives me sadness any time I see it in the current state.''
Going down memory lane, Okunnu said the title to the whole of Festac Town was vested in the Government of Lagos State and that the Federal Housing Authority (FHA) remained the tenant of the State Government, same as Trade Fair," he said.
He said during the course of the Committee findings, several government agencies were contacted including Federal Ministry of Works, Power and Housing, as well as Ministry of Defence, among others, expressing optimism that the State Government and the Federal Government would find a lasting solution to the issue.
Responding after receiving the report, Governor Ambode commended members of the Committee which included Senior Advocate of Nigeria, Femi Falana; Partner of SimmonsCooper, Mrs Victoria Alonge, among others, for the painstaking efforts put into the report, saying that their passion in ensuring that the State Government recovers its lands, buildings as well as disputed quarters were very much appreciated.