By: Kingsley Omonobi-Abuja.
**Among victims were 5 Students of ABU, Nuhu Bamali University.
Following repeated robbery attacks and kidnappings along the Abuja-Kaduna expressway which last week resulted in public outcry and the National Assembly summons of Military and Police Chiefs to the Senate, the Police have made a major breakthrough in smashing one of the kidnapping gangs.
The breakthrough was achieved when the Inspector General of Police (IGP) Special Squads comprising Special Tactical Squad led by ACP Abba Kyari, Intelligence Response Squad led by ACP Kolo, Special Anti-Robbery squad were deployed to comb the suspected hideouts of the kidnapping gang in Rijana and other villages in Kaduna.
Consequent upon the massive deployment of the special squads, 8 notorious kidnappers including the gang leader, second in command and third in command were arrested by the IGP special squads.
A 'SITREP' on the arrest of the kidnappers which Vanguard was opportune to see, entitled 'Arrest Of 8 Notorious Kidnappers Terrorizing Abuja-Kaduna Express Way', reads, "Sequel to the Massive Deployment of Patrol Vehicles, SARS, Anti-Kidnapping Units, STS and IRT operatives to the Abuja-Kaduna Express Way By IGP Ibrahim Idris, the Gang-leader of kidnappers, 2ic, 3rd in Command and 5 other Gang-members were arrested.
"They were arrested by Operatives of the IGP's Intelligence Response Team with Technical Intelligence Support from Technical Intelligence Unit between Thursday 15th June 7, Friday 16th June and Saturday 17th June 2017.
"The suspects arrested Include the Leader of the Gang Adamu Mamman aka Master, of Amana village Kaduna State, Ali Rabo aka Blacky of Liman Ibada village Kaduna State the 2ic of the Gang, Umar Antijo 27yrs of Rijana village who is the Main Informant of the Abuja-Kaduna Expressway Kidnappers.
Other gang members arrested are Shehu Idris Shagari 27yrs the 3rd in Command of Gadan Gayan village Kaduna, Awwalu Ahmadu aka Mota 27yrs of Rijana village Kaduna and their major receivers of stolen cows, phones Laptops from the Kidnappers, Babangida Abdullahi 31yrs of Rijana village, Usman Abdulmumin 27yrs of Rijana village and Ahmad Abdullahi 31yrs Rijana village Kaduna.
On interrogation by the ACP Kyari SRS/IRS, "Suspects confessed that they decided to release their last victim and proceeded to go and see their family members in their respective villages before IRT operatives arrested them at Maraban Jos, Anguwa Pama, Sabon Gayan and Rijana village all in Kaduna State.
"All suspects arrested confessed to several kidnappings of motorist and passengers along the Abuja-Kaduna expressway, including the kidnapping of DSP Munir attached to Air-wing Force Headquarters Abuja, a Retired Police Sergeant, a Driver to the Chairman Senate Committee on Police Affairs.
Other victims of the kidnapping gang include 5 Students of ABU and Nuhu Bamalli University namely Idris Goga, Simon Terna, Kazzah Bulus, Ibrahim Kalin, and Augustine Climax who was later killed and Corpse dumped in the river by the kidnappers.
Continuing the Police said, "Many of the Victims have positively identified the Gang-leader, 2ic, 3ic and informant among others as the ones responsible for their abduction.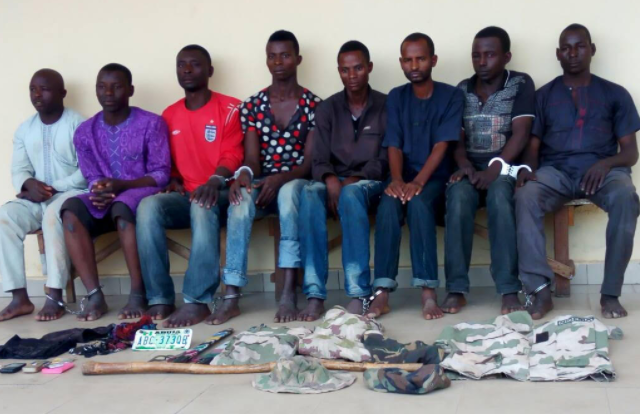 "The suspects further confessed that because of the massive deployment of security forces in their area of operations by the IGP, most of their gang members are relocating from Rijana village to their respective home towns and further narrated that there are 2 major groups of kidnappers operating within Rijana Axis of the Abuja-Kaduna Expressway.
"Suspects are assisting IRT operatives in tracing the second group.
"Victim Phones, 17,000 naira of 500 mints belonging to victims, SIM Cards, Charms, Cutlasses and 2 pairs of Army Uniforms were recovered from the Kidnappers.
"Serious efforts to arrest Remaining Gang-members is in Progress".