By Omeiza Ajayi
ABUJA – Former Vice President and chieftain of the ruling All Progressives Congress, Atiku Abubakar has described the ultimatum issued by a Northern youth coalition to the Igbos to quit the region and the counter response by a South-east group "is not only provocative, reckless and thoughtless, but also a grave threat to national security and peaceful coexistence".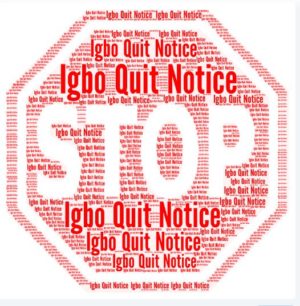 Reacting to the ultimatum and the counter salvos through a statement issued by his Media Office Wednesday in Abuja, the Wazirin Adamawa said he was alarmed by the latest dangerous outbursts, warning that it does not augur well for the North and the country at large.
"For a country facing threats of disunity, such ultimatum and counter rhetoric at this time is most irresponsible and callous, because it is capable of setting off a chain of ugly events nobody could control", he said.
The APC chieftain warned politicians of all hues to distance themselves from such divisive rhetoric because, according to him, the consequences of such association could ultimately consume them.
According to him, all grievances must be peacefully discussed and resolved through negotiations, and not through threats to fellow citizens.
"Atiku Abubakar calls for restraint on all sides by the Youth groups to pave the way for meaningful dialogue on how to restructure our country for the good of all. Our country is too precious; our problems are too pressing to pander to divisive rhetoric", the statement added.m
The former Vice President however appealed to the authorities to address the challenges of youth restiveness, as well as social and economic exclusion, which are the drivers of tensions.
He stressed that the country should not be afraid to confront the recurring clamour for restructuring, adding that burying problems under the carpet would not make those problems go away.
"On the contrary, he says, an ostrich attitude towards these challenges could produce future complications beyond our capacity to manage."