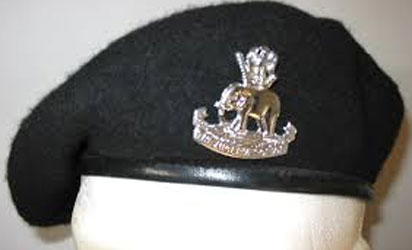 National Police Cap
By Dennis Udoma
UYO – THE CHAIRMAN of Ukanafun Local Government Transition Committee in Akwa Ibom, Mr. Abasiono Udomfu is allegedly arrested by the police in connection with the gruesome murder of his late Secretary, Mr Ime Atakpa barely two months ago.
The Chairman's personal assistant, Mr. Akaninyene Ibuot and another whose identity was not immediately available at press time, Vanguard learned were also arrested for their involvement the dastardly act.
A family source to the late council scribe, who craved anonymity told journalists in Uyo on Sunday that, the Local Government Transition Chairman during Governor Udom Emmanuel's wife visit, Martha to the area to commission housing projects for widows, voluntarily raised up his hands to declare that, "God knows that my hands are clean concerning the murder of the late Local Government Secretary".
According to the source, after the Chairman had made the declaration, his personal assistant, Akaninyene Ibout also corroborated him saying that, his hands were clean as he did not have anything to do with the killing of the late Atakpa.
She said, after the event by the Governor's wife on Tuesday, where the duo were absolving themselves, the police on intelligence in the area later swoop on them the following day.
On interrogation by the police intelligence team, Ibuot, was said to have named the chairman and two others of involvement in the alleged murder of the council scribe. The other two suspects now cooperating with the police that the Chairman paid them the sum of N300, 000 to kill the secretary, were alleged to have been arrested in Port-Harcourt on a tip off.
Udomfu, it was further gathered had made frantic effort to bribe the policemen so that he would not be disgrace but the attempt failed as the police did not cooperate with him.
The killing of late Atakpa, followed the worsening security breach in that part of the state in recent times, by hoodlums suspected to be political mercenaries of political stakeholders in the area.
Vanguard recalls that, on Sunday April 16, 2017 the Ukanafun Council Secretary, Mr. Ime Atakpa was gruesomely murdered in cold blood by gunmen, in his farm in the village. Since then, police have been trailing his killers until recently when the Council Chairman and three others were arrested as prime suspects.
Akwa Ibom Police Commissioner, Don Awunah neither picked his calls nor responded to the text message to his phone to confirm the matter but, the Police Public Relations Officer, PPRO, Mr. Chukwu Ikechukwu when contacted on the telephone on the incident said, ''the CP will soon brief you people on that very soon''.