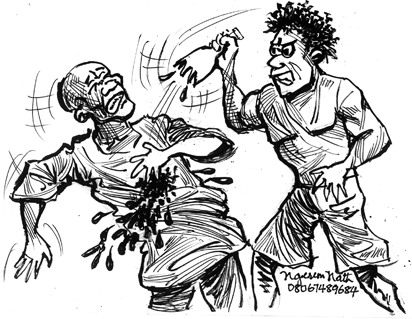 Stab
A prosecution witness, Kehinde Oladeinde, on Monday told an Ikeja High Court how his brother's colleague at the market hacked him to death with a plank riddled with nails following a heated argument.
He also told the court that his wife died few weeks after as a result of the shock.
Kehinde, who is the elder brother of  Isikiru Oladeinde, the deceased mechanic, testified that his colleague, Taiwo Adeyemi, 28,
caused his untimely death by hitting him several times with the plank.
Adeyemi, according to the prosecution, committed the crime of manslaughter at Ashade Market, Agege.
The accused and the deceased became embroiled in an argument on April 12, 2014, and in the process, he hit Isikiru on the
hand with the plank.
"My late younger brother's wife called me about 11.00 p.m. on the day of the incident that he was in serious pains as a result of an untreated infection from the injury he sustained during the fight.
"I rushed there the next day and found my brother in serious pains; his arm was swollen up to the neck.
"We immediately rushed him to Ota General Hospital in Ogun, where he was admitted for a day.
"When his condition became worse, he was referred to the Federal Medical Centre in Abeokuta, where he later gave up the ghost at midnight.
"My brother was buried immediately in accordance to Islamic rites," Kehinde said.
As a result of the shock, the wife died some weeks after her husband's death due to the trauma of the incident.
"My brother's wife also died few weeks later because of the trauma.
"The four children they left behind were given to members of our family to raise," he added.
The accused pleaded not guilty to the charge.
Justice Hakeem Oshodi adjourned the case until Sept. 12 for continuation of trial.