By AYO ONIKOYI
In a matter of hours, ace comedian and UN ambassador, Francis Agoda, AKA I Go Dye will be joining 24 other eminent Africans at the Oriental Hotel, Lekki, Lagos to received the African Child Prize. I Go Dye, who is being honoured in the 'Comic Art and Creativity' category was selected after rigorous voting process.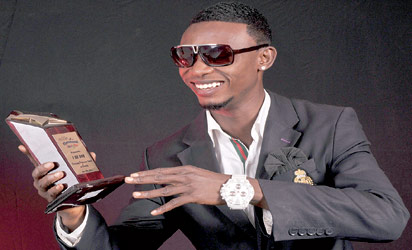 The letter from the organisers of the award, which was posted on I Go Dye's Instagram wall reads in part : " On the recommendation of the Board of Examiners, Senate has approved that the African Prize for Comic Art and Creativity, be awarded to you."
" By this honour, you will be listed with all benefit into the United Nations Volunteers for Africa (UNVA), and rated under this category among African Union (AU) member States, subject to acceptance and compliance with the policy of the African Child Prize (ACP), upon which certificate, plaque and all entitlements will be issued during the laureate dinner on Friday, June 16, 2017," the letter further stated.
In his response to the award, the humour merchant par excellence asserted that it is another means for him to further add value to humanity, thanking all that made the award possible.
"Often we pass through our daily routine without knowledge that our little contribution to humanity is noticed. I feel astonished that my actions caught the attention of many people. Indeed this African Child Prize honour, got me thinking – just another means to add value to humanity; by recognizing our contributions. I appreciate all those that made this honour possible," he wrote.
For the Delta State-born comedian, this is another feather to his feathers-laden cap of honours. His truck-load of international and local industry awards include: three-time Best African Comedian award; Best Nigeria Comedian by Nigeria Entertainment Award, New York; Most Outstanding Performing Comedian in Nite of a Thousand Laughs for 10 years by Opa Williams; Best Niger Delta Comedian; amongst others.
He became the most sought after and  most traveled comedian in Africa. Francis Agoda is a United Nations Millennium Development Goal Ambassador. In 2016 I Go Dye  was made United World Habitat Ambassador which he dedicated to Hillary Clinton. He was listed among 100 Most Influential Persons in Africa by Global Icon and 100 Most influential  Deltans with the Governor Senator Ifeanyi Okowa, Ngozi Okonjo-Iweala, Tony Elumelu, also on the list by Happenedings9ja.