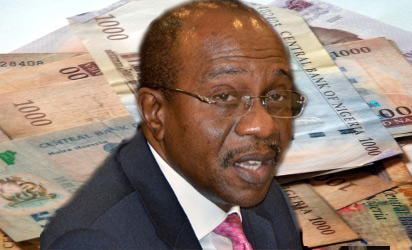 Governor, Central Bank of Nigeria (CBN), Mr Godwin Emefiele
By Babajide Komolafe
CENTRAL Bank of Nigeria (CBN) yesterday said that it acted in collaboration with the Nigeria Communications Commission (NCC) to intervene in the crisis between Etisalat and a consortium of 13 Nigerian Banks over a syndicated loan of about $1.2 billion in order to prevent job losses and asset stripping.
Acting Director, Corporate Communications, CBN, Mr. Isaac Okoroafor confirmed the intervention of the two regulators in the loan dispute. He  said: "Although it should ordinarily not be the role of a regulator to decide how individual bad loans are resolved, the CBN believes that Etisalat is a systemically important telecommunications company with over 20 million subscribers that if not well handled, may have negative implications for the banking system itself.
He further explained that the CBN and NCC, sensing that banks might go ahead in the usual way and downsize the company's over 4,000 staff, reached an agreement to intervene and implore the consortium of banks to reassess its position in dealing with Etisalat.
Okorafor described some media reports insinuating handwriting by CBN on the issue as "the height of mischief and insensitivity" explaining that the collaborative move by the regulators was aimed at preventing job losses and asset stripping and to ensure that Etisalat remains in business and is able to pay back the loans.
According to him, the CBN and the NCC, in the coming days, will meet with the syndicate of banks and the IHS Towers, the tower managers and the equipment suppliers, in order to achieve what he termed "a win-win outcome" for all stakeholders.
It will be recalled that Etisalat has been embroiled with a consortium of 13 Nigerian Banks that gave it a facility of about US$1.2 billion, on which the company has been unable to meet its repayment obligations in line with agreed terms of the facility.
Given the inability of Etisalat to come to an acceptable agreement with the banks, the largest shareholder in the company, Dubai-based Mubadala Development Company of the United Arab Emirates, has now pulled out of the company as well as the ongoing negotiations, leaving only their local partners, led by Hakeem Belo-Osagie, to carry the burden.