Ado-Ekiti—Indications emerged at the weekend that Ekiti State Government will be handing over mission schools to their original owners on the condition that they can prove that they have the ability to provide qualitative education in such institutions.
Governor Ayodele Fayose dropped the hint during a meeting with the leadership of the Anglican Church in the state and members of the Alumni Association of Christ's School, Ado-Ekiti on moves to hand over the school and Christ's Girls School to their original owners.
In a statement yesterday, by the governor's Chief Press Secretary, Mr Idowu Adelusi,  the governor said what was important is the provision of quality education to Ekiti children and improving on the standards the state had set.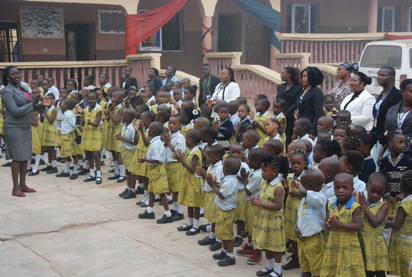 The governor, who received a document prepared by the alumni, the Anglican Church and state government officials on the modalities for the handing over from the President, Alumni Association, Chief Uduimo Itsueli, expressed hope that the process of handing-over would not be delayed.
"We met some months back and you said you would want to take over the running of the school.  Government alone can't fund education," the governor said.
We are in  support of such moves, especially when those involved are credible and are people who will help to provide sound and quality education for our children," he said.
Governor Fayose also called on parents, corporate bodies and others to support the government in the task of improving the standard of education in the state.
In his remarks, Itsueli  said the alumni association in conjunction with the Anglican Church  would run the schools when handed over.
He said the document presented to the governor would form the bedrock of the arrangement and that after the schools are handed over, the state government would supervise the whole arrangement for some time.
The Bishop of the Anglican Church, Ekiti, Most Revd. C.T. Omotunde, was among the church delegation.