…Quit notice capable of jeopardizing existing relationship—Lamido
…Only Igbo presidency'll stop Biafran agitation— Ohanaeze youths
…MASSOB denies plot to attack Kanu's residence
…We've had enough of hate speeches — Okorocha
By Chioma Gabriel, Emeka Mamah, Chidi Nkwopara, Anayo Okoli  & Aliyu Dangida
ENUGU — The controversy generated by  the quit notice given to the Igbo by Arewa youth groups continued, yesterday, with some Igbo socio-cultural groups, traders, students and church leaders reacting to the meeting between the leader of the Biafra Independence Movement, Chief Ralph Uwazuruike, and former Chief Security Officer, CSO, to the late Head of State, Gen Sani Abacaha,  Major Hamza Al-Mustapha.
The  socio-cultural groups  described Uwazuruike's action as not only "horrifying but nauseating and despicable."
This was followed by a reaction from the immediate past governor of Jigawa State, Sule Lamido, who  advised the  coalition of northern groups  to suspend their decision, describing the  quit notice as frightening and capable of jeopardizing the existing mutual relations between the two ethnic nationalities.
The Igbo groups included Eastern Consultative Assembly, ECA; Igbo Women Assembly, IWA; Igbo Students' Union, ISU; Igbo Traders Association, ITA; and South East Christian Network, SECN.
They asked Uwazuruike "to cover his face in eternal shame," saying the former MASSOB leader led thousands of Igbo youths to their early graves through agitation for Biafra even as he lived in opulence.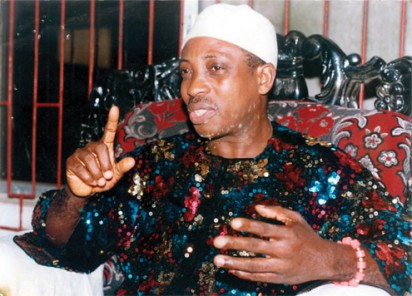 It was disgraceful outing —ECA
A statement signed by National Publicity Secretary of ECA, Rev Fr John Odey, stated: "Uwazurike's very disgraceful outing with Al-Mustapha in Kaduna on Monday, was a public confirmation that Uwazuruike never believed in our people's freedom. He has been trading with the blood of Igbo youths for two decades. For him, it's all about money, money and more money.
"Nobody is fooled, our people know that the oppressor, whose agent he has always been, funded his trip to Kaduna, because he can do anything for money.
"He destroyed himself, when he countered and opposed the May 30 sit- at-home order by Nnamdi Kanu.
"Our people unanimously consigned him to the dust bin of history, by complying 100 percent with the Indigenous People of Biafra, IPOB, order, thereby covering Uwazuruike with shame."
It' s nauseating— IWA
Also, the Igbo Women Assembly, IWA, in a statement entitled, "Ndigbo respond to Uwazurike's show of shame with Hamza Al- Mustapha in Kaduna stated "that Uwazuruike's charade in Kaduna, where he went to plead for one Nigeria, while attacking Kanu at the same time, is nauseating, horrifying and despicable.
"While pretending he was fighting for our people, he led thousands of Igbo youths to their early graves so he could live in opulence and luxury. Today, his closest ally is the infamous Al Mustapha.
"He has finally destroyed himself. Igbo women will protest against him in the coming days. He is a big shame and a ruthless traitor; it is high time he is banned in Igbo land."
Stop further sabotage of Ndigbo —Students
On its part, the Igbo Students' Union, ISU, in a statement signed by its President, Chimezie Ubani, asked Uwazuruike to stop further sabotage of Ndigbo by working with the oppressor.
Ubani said: "It is with a heavy heart, that we are sending this message to Uwazuruike, to desist from sabotaging our people's freedom by conniving with the oppressor.
"Uwazuruike has deceived our people for very many years, pretending to be genuine. We are completely tired of Uwazuruike's game of blood of the innocent, which turned him into a chauffeured limousine/ land owner and estate developer."
South East Christian Network
In a statement signed by the chairman of the South East Christian Network, SECN, Bishop Mike Ibeneme, they stated that Christians were angry with Uwazuruike over his alleged romance with the enemy and asked Ndigbo to pray and fast for Nnamdi Kanu.
It said: "Christians all over the East are hereby called upon to pray and fast for Nnamdi Kanu. Uwazuruike, out of envy and hatred wants to create problems for Kanu. Uwazuruike allowed, greed to destroy him. Now he is bitter over Kanu's popularity."
Notice capable of jeopardizing existing relationship—Lamido
Ex governor Lamido spoke in his Bamaina country home while hosting his supporters during breaking of Ramadan fast, saying such statement from coalition of Northern groups could easily undermine the already fragile unity of the country.
"The statement  issued by the coalition of northern groups is unruly and frightening. There are things we shouldn't write because of their consequences."
Bishop blasts FG
In a similar vein, Anglican Bishop of Egbu Diocese, Rt. Rev. Geoffrey Okorafor, criticised the Federal Government for keeping mute over the quit order.
The cleric spoke during a Eucharistic service of confirmation, admission and induction at Holy Trinity Anglican Church, Nekede, Owerri West Local Government Area of Imo State.
He said: "It is worrying that the presidency under the watchful eyes of the Acting President,  Yemi Osinbajo, is yet to come out with any categorical statement on the declaration by the Northern youths."
While saying that "no South Easterner should take the order as an empty threat," the cleric also advised members of the National Assembly of South East extraction "to examine the threat holistically with the interest of Ndigbo utmost, in taking a position on the vested matter."
Igboezue calls for immediate prosecution of Northern youths
Meantime, Igboezue International and Diaspora socio-cultural group has called for immediate prosecution of all those behind the embarrassing quit notice.
Elder Pius Uchenna Okoye, national president of the group, in a statement said: "We are saying enough of the persistent threat of Igbo by the northerners. Igbo are the pillars of unity of Nigeria, yet they are not wanted in the country they have invested so much to build and unify."
Only Igbo presidency'll stop Biafra agitation —Ohanaeze youths
Also yesterday, Ohanaeze Ndigbo Youth Council, OYC, declared that the South East zone will not accept anything other a president of Igbo extraction in 2019, saying that it is the only panacea to Biafra agitation raging in the zone.
Rising from its meeting in Enugu, the group said it had activated all machinery towards the actualization of the project.
In a communiqué issued after the meeting and signed by the Secretary General of OYC, Mazi Okwu Nnabuike, the group said Ndigbo would no longer play second fiddle in Nigerian politics, noting: "It is Igbo president in 2019 or Biafra in 2020."
MASSOB denies alleged plot to attack Nnamdi Kanu's residence
Meanwhile, Movement for the Actualization of Sovereign States of Biafra, MASSOB, has denied reports linking it with an alleged plot to attack the residence of the leader of the Indigenous People of Biafra, IPOB, Mazi Nnamdi Kanu, in Umuahia, Abia State.
Addressing newsmen in Aba, MASSOB zonal leader, Abia Central, Felix Ezekwem, said MASSOB had been a non violent organisation and would not involve itself in any act of violence to attack or harm anyone.
Describing the report as handwork of detractors of MASSOB, Ezekwem explained that the organisation would not have bothered if it was not contacted by some security agencies and peace-loving Nigerians across the federation.
He stated that due to the non violent struggle introduced by its founder, Chief Ralph Uwazuruike, MASSOB, has restrained itself from acts of violence, despite the attack and arrest of its members in some states of the country.
We've had enough of hate speeches — Okorocha
Governor Rochas Okorocha of Imo State has advised those fanning the embers of war and making hate speeches to stop it, in the interest of Nigeria.
Okorocha, who made the appeal, yesterday, while addressing newsmen in Owerri, also described the orders issued by IPOB and northern youths as "nonsensical."
"The two orders credited to the two organisations are nonsensical, ill-informed and ill-motivated. I urge all well-meaning Nigerians to completely dissociate from these provocative statements," Okorocha said.
The governor said those calling on Igbo sons and daughters resident in the North to return home, as well as those fanning the embers of war should stop it because it is deceitful and ill-motivated.
He described Ndigbo as "a peace-loving people that not only develop wherever they find themselves, but also suffer the joy and pain of their host communities. If there is any group of people that have laid down their lives in the interest and development of Nigeria, it is Ndigbo."
Uzodinma wants thorough probe
Chairman, Senate Committee on Customs and Excise, Senator Hope Uzodinma (PDP, Imo East), yesterday, called on  security agencies to carry out a thorough investigation by fishing out the Northern Youths who gave ultimatum to the Igbo to quit northern parts of the country  within three months  or be forced to do so.
According to him, the    only way Igbos living in the North can be assured    of the safety of their lives and property is by a quick and through investigation of the threat, and by bringing those involved to justice without delay.
In a statement yesterday, Senator Uzodinma urged Igbos in the North to remain calm over the quit notice threat by Arewa Youths, just as he assured that he has the confidence that relevant security agencies will apprehend those behind the threat and bring them to justice.
Senator Uzodinma who noted that he was glad that the Kaduna State Governor, Mallam Nasiri el-Rufai has directed that those who issued the threat be arrested and that the Inspector General of Police,Ibrahim Idris has infact publicly ordered for their arrest, said that all    those arrested so far should be made public.
According to him, he was confident that the security agencies were equal to the task and will do the right thing to protect the unity of the country, adding, "I know that the security agencies are capable of getting to the root of this matter. I have absolute confidence in their professional competence, but I want them to treat this matter with utmost urgency so that Igbos in the North can be assured that they are indeed protected by the laws of our country"
Senator Uzodinma    advised all Youth groups in the country not to create unwanted distraction for the present administration to enable it remain focused on their good agenda for the country and enjoined Igbos to remain calm, confident that justice would be done.