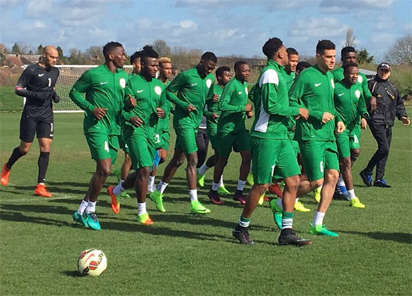 Super Eagles training in London
Uyo fans have said the Super Eagles' 2-0 loss to Bafana Bafana of South Africa in the 2019 AFCON qualifier at the Godswill Akpabio International Stadium struck them as earthquake.
Speaking with pressmen after watching the match on Saturday, the Secretary of Akwa Ibom Football Association, Joseph Eberefe, said that the loss struck him "like earthquake".
"It is disappointing, we did not expect this, it is very frustrating.
"The absence of regular players like Victor Moses, Mikel Obi and the others were felt on the pitch,
"These ones have tried but they are not experienced as the usual Eagles players," Eberefe said.
In his reaction, the Speaker of the Akwa Ibom House of Assembly, Onofiok Luke, said that he was short of words to describe the shock of the loss.
"I cannot comment, it is simply no comment from me," Luke said.
Former Deputy Speaker, Akwa Ibom House of Assembly, Uwem Udoma, said that the Eagles' performance disappointed the entire fans.
"We should always use the best, we should not use our second eleven and expect to win.
"This is a lesson for Nigeria to do enough to defend well and win its matches.
"Our goalkeeper is inexperienced, he left the goalpost and caused the second goal," Udoma said.
He, however, said that football was a game and the fans enjoyed themselves during the match.
Another fan, Tom Odiong, said that the South African team was technically better than the Eagles players.
"We missed Victor Moses and Mikel Obi in the match, their experience matters," Odiong said.
Newsmen report that Bafana Bafana team scored in the 56th minute and 83rd minutes by Tokelo Rantie and Percy Tau respectively.
The South African second goal sent cold shivers on football fans while some of them left the stadium abruptly in frustration with sighing on their lips.