By Etop Ekanem
Deputy Governor of Delta State, Mr Kingsley Otuaro, has tasked oil companies and oil-bearing communities to respectively rev up corporate social responsibility and protect oil facilities in their domain, to enhance revenue for the development of the state and the nation.
He also assured the oil companies and oil-bearing communities of Governor Ifeanyi Okowa's development focus.
He spoke when the Jude Ukori-led Egbema Gbaramatu Communities Development Foundation, EGCDF, accompanied by officials of Chevron Nigeria Limited, called on him to seek developmental intervention from the state government.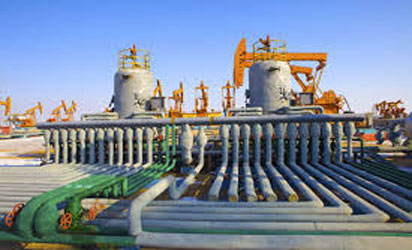 Ukori said that the oil communities of Egbema and Gbaramatu Kingdoms deserved developmental projects from a state government it contributes huge oil revenues to, more so from Governor Okowa to whom they gave massive votes and were active partners in halting the worrisome oil facility vandalism at inception of the administration.
Responding, Otuaro said: "Oil-bearing communities had no fair deal, but now, there is a development paradigm shift. Collaboration with oil communities is a must for Delta State Government as what the EGCDF is doing fits squarely with the SMART agenda of Governor Okowa.
"There are state government approved projects in Okerenkoko, Oporoza, Ogbotobo and in many other places. In Escravos, there is a departure from past neglect. We know there is need for more and we will do more as financial resources of the state improve."
Otuaro, who last year visited the creeks as Chairman of the Delta State Advocacy Committee Against Oil Facility Vandalism to preach peace, tasked the EGCDF to deepen its  intelligence so that they will be more capable in assisting  government in containing growing sophistication that oil facility vandalism had assumed.
On the continued capacity of Chevron's Global Memorandum of Understanding, GMOU, that has aided community development aspirations of EGCDF, Otuaro appealed: "I say this with all sense of responsibility. I know funds released to communities are based on business decisions of the oil companies, but these funds should be upwardly reviewed in line with contemporary realities. We need to appreciate the dynamics of time."
As a way of dissuading youths from oil facility vandalism, Otuaro said Okowa's SMART agenda had several programmes such as the STEP, YAGEP and others designed to make youths live productive lives rather than constitute insecurity.
Expressing hope of positive response from the state government during his appeal for state intervention via the Deputy Governor,  Ukori said that the only state government assistance to Egbema/Gbaramatu oil communities came in the way of science equipments from the Deputy Governor when Otuaro was a Commissioner in DESOPADEC.
While calling on Chevron to increase EGCDF funds to expand the size of its development programmes, Ukori, however, revealed that the Chevron sponsored GMOU initiative had enabled EGCDF to execute 116 projects in agriculture, power, health, education and other sectors while 18 projects are ongoing.