By Abdulwahab Abdulah and Jane Echewodo
Justice Hakeem Oshodi of a Lagos High Court sitting in Ikeja today granted embattled Federal High Court judge, Justice Rita Ofili-Ajumogobia and a Senior Advocate of Nigeria, Godwin Obla leave to travel to US for urgent medical treatment.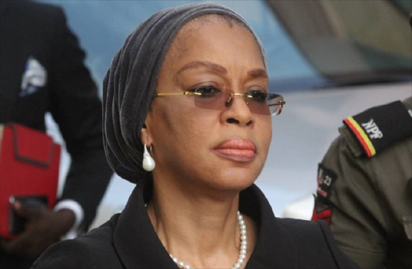 Counsel to Ajumogobia , Mr Olawale Akoni SAN pleaded the court to grant his client leave to travel to US for urgent medical attention in Morris Height Center, Bronx New York.
In a 17 paragraph affidavit in support of her claim, Ajumogobia is said to be suffering from high blood pressure, hypertension, palpitations, and stress related issues.
Counsel to EFCC, Rotimi Oyedepo, had countered the application, contending that if Ajumogobia is granted leave to travel, she might jump bail and not come back to face her trial.
Oyedepo also contended that Ajumogobia's request to travel for thirty days was a ploy to stall the trial.
Ruling on the application, Justice Oshodi pointed out that the court has judicial discretion to rule on the application.
"The prosecution failed to give evidence why the applicant's sickness cannot be treated in Nigeria. Also how the prosecution came to decision that defendant would jump bail is best known to him.
"I believe that the 1st defendant as a Federal High Court Judge has a lot to lose if she considers the idea of jumping bail.
" The Chief Registrar is hereby ordered to release the international passport of the 1st defendant to enable her travel abroad between June 7th to June 13th, 2017. The defendant must return the passport to the Chief Registrar on or before July 1, 2017″, Justice Oshodi ruled.
The judge also granted the second defendant, Godwin Obla SAN leave to also travel to Houston, Texas in the US for medical treatment.
"The 2nd defendant is also granted leave to travel for medical treatment and must also return his passport to the Chief Registrar on July 4," the Judge ruled.
Ajumogobia and Obla are both facing corruption charges of giving and receiving bribe brought against them by the Economic and Financial Crimes Commission (EFCC).
After the ruling, the EFCC called its tenth witness, a legal practitioner, Charles Musa who told the court that Ajumogobia who was his classmate and friend, called him to help draw up a deed of agreement. "I sent her a mail about the terms of agreement and she did not get back to me again," he said.
Oyedepo however tendered deed of agreement between Ajumogobia's company, Nigel and Colive and another company, County and City Bricks, purportedly drawn by the witness, Musa who denied signing or drafting the deed of agreement between the two companies.
Justice Oshodi thereafter adjourned the matter till July 7 for continuation of trial.
Ajumogobia was accused by the EFCC of receiving a total of $793, 800 in several tranches from different sources between 2012 and 2015.