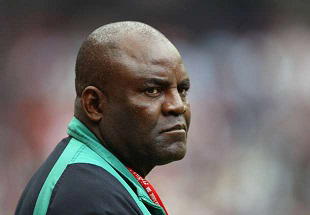 Coach Christian Chukwu, former Rangers International Skipper and Coach
By Omeiza Ajayi
ABUJA – The ruling All Progressives Congress APC has appointed former Super Eagles handler, Christian Chukwu as head of its talent hunt football competition tagged National Unity Cup Football Competition involving non-league players in the six geo-political zones.
Inaugurating the committee Thursday in Abuja, APC National Youth Leader, Dasuki Ibrahim Jalo, said that the competition, scheduled for next month is part of the party's mandate to initiate and implement strategic programs that would endear the party to Nigerian youth.
Adding that the competition is organized in conjunction with zonal and States Youth Leaders as approved by the party, Jalo said: "This competition would bring out hidden talents in the field of football which can be showcased to the world for future benefits to individual and the Nation at large. It also has ability to develop individual physical mental thinking and emotions. The competition would be between states of the federation and be played at the six geo-political zones with two teams emerging from each zone to play the semi finals and finals in Abuja," he noted.
He equally disclosed that while league players will not be part of the competition since it is a talent hunt, the kickoff date, the modus operandi, competition format, the prizes among other things would be stipulated by the committee.
"I would seize this singular opportunity to call on the leaders of our party especially the state chairmen and their governors to support this initiative for the benefit of the party and our teaming youths in various states and LGAs especially the Sports lovers," he appealed.
National coordinator of the competition, Christian Chukwu, who was represented by former Super Eagles assistant coach, James Peters, commended the ruling party for the initiative, which he said would produce abundant talents to feed the national teams.
"All Sports and Games Consult (AGC) has asked me to warmly welcome you to the epoch making event comprising the inauguration of the National Organising Committee, Unveiling of Chairmanship Trophy and Presentation of Branded Football for the APC National Unity Cup Tournament.
"Today's event marks the high point of several months of hard work and consultations to ensure the plan to stage the first edition of the APC National Unity Cup Football Championship is successful.
"The Governing Party – the All Progressives Congress (APC) in partnership with Allsports 'N' Games Consult (AGC) has packaged this Talent Hunt programme for Youth Development and Empowerment through sports.
"Considering the local content advantages, which include abundance of talents, qualified technical hands at home and income generation potentials, the football development goal in the country is assured with the strong untiy advocacy for the citizens."