PIONEER of the IVF fertility treatment programme in Nigeria, Professor Oladapo Ashiru (OFR) was recently awarded the African child prize award for Discovery in Science and Innovation.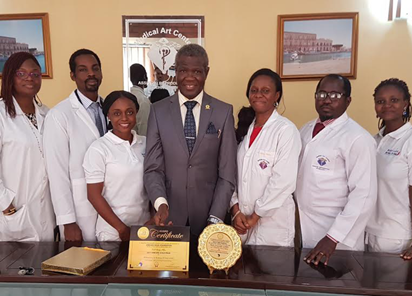 Ashiru, who is the Chief Medical Director, Medical Art Center & Mart Medicare, Lagos, was recognised for his  accomplishments in medicine and pioneering spirit in the field of health care.
After he became the  youngest professor in the field of Medicine in Africa at the age of 32, Ashiru, who is also Group Medical Director and CEO of Mart Group, has garnered over 40 years experience in the treatment of infertility and reproductive endocri-nology.
Among his several pioneering break-throughs in medical science include first test tube baby research, and first sickle cell free baby pre-implantation genetic testing.
He has also pioneered the use of Modern Mayr Medicine therapy in Africa.
Ashiru who dedicated the award to the  Mart Group staff for their professionalism, care and dedication said the goal of putting smiles on the faces of all those seeking help for their health challenges remained unshakeable even as the Group maintains utmost perfection as it remains  part of the world's cutting edge development in the area of Medicine.