*Nobody takes Fayose serious —Okorocha
*Says Osinbajo has full presidential powers
*Nnamdi Kanu only seeking relevance
ABUJA—GOVERNORS elected on the platform of All Progressives Congress, APC, yesterday, tackled Governor Ayo Fayose of Ekiti State on his allegation that President Muhammadu Buhari, who is on medical vacation in London, was on life support.
The APC governors also stated that all the apparatuses of the nation's government had been handed over to the Acting President, Prof. Yemi Osinbajo, pending the return of the President.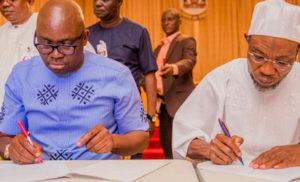 Chairman of APC Governors Forum, Owelle Rochas Okorocha, in an interview with State House correspondents in Abuja, advised Nigerians to disregard Governor Fayose's comment on Buhari's health, describing the comments as baseless.
The Progressives Governors Forum Chairman also disclosed that the agitations by youths in the South-East was a result of the neglect of the zone, even as he said the leader of Indigenous People of Biafra, IPOB, Nnamdi Kanu, was only seeking relevance for himself but cashing in on the alleged neglect of the zone.
Fayose's comment capable of causing chaos
Okorocha said the comment made by Governor Fayose, who is the Chairman of the Peoples Democratic Party, PDP,  Governors Forum, was capable of throwing the country into chaos.
He said:  "As you are aware, we are passing through a very difficult time in our nation and we have a lot of challenges— political, economical, social, cultural and what have you.
"I want to advise that this is what many great nations of the world have passed through before getting to their point of greatness and Nigeria will not be an exception. We must see this time as a trying period for Nigeria and by the grace of God, we shall overcome.
"This called to question the recent statement created to Governor Fayose over the health of Mr. President. I want to advise that Fayose statement should not be regarded. It is baseless and there is no substance in that information. What he said is not right, it is uncalled for and that is simply over heating the polity.
Osinbajo has all presidential powers
"Moreover, the country is stable. The Acting President is doing a beautiful job, he is meeting up the daily duties of Mr. President. There is no vacuum and so there is no cause for alarm.
"We must at this point give every support to Mr. President and we are hoping that very soon Mr. President will come back and join us.
On call for Buhari's resignation
On the  call by Governor Fayose for the resignation of President Buhari, Okorocha said the Ekiti State governor lacked the powers to make such call.
He said:  "Well, I have just said that even the speculation he is making is wrong, it is unfounded. And if anybody is to speak about the President's health, Fayose does not have the qualifications to speak for the nation on whether Mr. President should resign or stay.
"It is not in our culture, it is not in our tradition. We sympathize with those who go through pains of ill-health, at that time we don't wish them death, we wish them well. And Mr. President's office is properly taken care of by Mr. Acting President of Nigeria until Mr. President comes back home and continues his work and finishes his term. But to say he should resign is cheap talk and does not make sense in anyway."
Nnamdi Kanu is seeking relevance
The APC Governors Forum Chairman, while commenting on the recent secessionist agitation and the ultimatum to the South-East to vacate the 19 states of the North before October 1, said it had been agreed that Nigeria would remain a united and indissoluble country.
He said:  "But we must never take this unity of Nigeria for granted. We are better off a bigger nation, we are better off as one nation. We are going through problems but these problems do not mean they cannot be surmounted.
On whether the Acting President would involve Nnamdi Kanu in the consultative meeting on the unity of the country, he said if there was need for that, Kanu would be involved.
"Nnamdi Kanu, a young man seeking relevance,   agitating for whatever he believes in, what he stands for must be treated separately from the entire Igbo nation. The question is does Nnamdi Kanu has the capacity to lead Igbos to war? Or lead me and the governors to war? So I will stand now and Nnamdi Kanu will tell me stand up let's go to war?
''So sometimes we over dramatize issue just to make a big deal out of it and that has been the big challenge,'' he said.