By Lawani Mikairu
Air Peace Airline management has said the airline is yet to quantify its losses that run into millions of naira following the disruption of its early weekend flight operations at Akanu Ibiam International Airport, Enugu by the airport management,which erroneously stopped the airline from processing passengers at their check-in counter over  what it called  the airline's indebtedness to Federal Airports Authority of Nigeria, FAAN.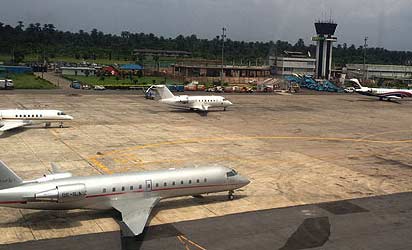 The airport management said Air Peace was owing FAAN N7,000,000 and so decided to stop the first flight operation of the airline from Enugu Airport. The disruptions of the airline operation lasted more than one hour before the airport manager was made to realize that Air Peace was not owing FAAN.
Reacting, FAAN's Acting General Manager, Corporate Affairs, Mrs Henrietta Yakubu, confirmed that Air Peace had paid its outstanding debt to FAAN. She also apologized on behalf of the agency for the inconveniences the situation must have caused the airline and its passengers and promised that the agency will see to it  that such doesn't repeat itself.
Speaking on the disruption, Allen Onyeama, chairman, Air Peace, said the disruption had multiple effects as it disrupted its flight schedules for the weekend.
Onyema lamented that an airline that owes the government over N11 billion was allowed to operate that morning but Air Peace was temporarily shut down over N7 million it already paid.
"If we are not adequately compensated for our losses, we promise the government that we will go to court," Onyema said.