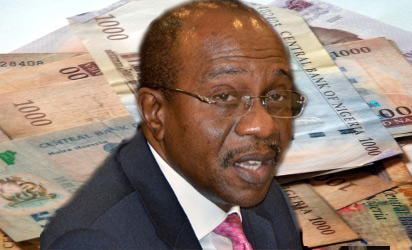 Governor, Central Bank of Nigeria (CBN), Mr Godwin Emefiele
By Elizabeth Adegbesan
THE Central Bank of Nigeria, CBN, has expressed concern over the low level of credit penetration in the country which is estimated at 5.3 per cent of the nation's adult population.
Head, Financial Inclusion Secretariat, CBN, Mrs. Temitope Akinfadeyi, disclosed this in Lagos at a workshop on retail banking organised by the Ciuci Consulting with the theme 'Catalyzing SME funding and Retail Lending to Nigeria's Economic Development'.
Comparing credit penetration in Nigeria to that of other African countries, Akinfadeyi said: "Year-on-year biographic survey from EFiNA looks from 2010, 2012, to 2016 reveal that our credit is struggling. And then we took data from the Global Fintech base in 2014 and we looked at Angola, Ghana, Tanzania, with few countries, and then we look at sub-Saharan Africa, where do you find Nigeria. The Global Fintech database tells us that access to credit in Nigeria is not up to 5.3 per cent. Compare that to the other countries listed, we are very far from what we need to do, so that is the point."
Also speaking at the workshop, founder and managing partner of Ciuci Consulting Firm, Mr. Chukwuka Monye, said that one of the factors responsible for the low credit penetration is low confidence in retail lending procedures of banks by customers. He said that bank customers have low confidence in retail lending which he attributed to unfavourable/frequent changes in government policies, fear of high interest rates, and inability to provide collateral.
He admonished that banks must become open minded to adapt their organizational designs to the requirements of their target customers.
Chukwuka further said that the success of retail lending is an uphill battle for banks, with strong negative perception of retail lending offerings.