By Olsunkanmi Akoni
AFTER about 30 years of  neglect of Ikuomola Street in Alimosho Local Government Area of Lagos state, residents in the area may now heave a sigh of relief, as the State Government has said it would complete and handover the ongoing construction of the inner road this month.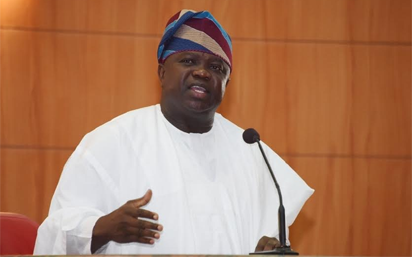 The residents, however, expressed joy over the construction , saying it was long overdue.
Special Adviser to the Governor and Chief Executive Officer of Lagos State Public Works Corporation, LSPWC, Mr. Ayotunde Sodeinde, who led officials of the corporation to inspect the level of work on the 5.14 metres road, said, "before the end of this month, we will handover the road to the community.
According to him, "We have completed almost 80 percent of work on it and in the next two weeks we will finish laying the asphalt on the road. "Governor Akinwunmi Ambode is so passionate about inner roads, and this is one of many earmarked for construction in the state."
"We commenced work on the road in February. When we first came to look at the road, we could not drive in as the whole street was flooded. But we can see from what the residents are saying that the situation has now changed.
"I honestly did not know how this road was discovered by the governor, this can further tell you that he is a man that has his eyes everywhere in the state and has promised to spread development to all", Public Works boss noted.
Sodeinde who said the road construction would also address the flooding challenges in the area, added that the drainage system was expanded to drain collector for flood water from other streets to the main drainage system.
Residents speak
A resident, Mrs. Olawunmi Caroline, said the governor's intervention would put an end to the age long suffering residents in the area have been going through. Her words: "This road was in such a deplorable state that even commercial motorcyclists, popularly called "Okada" riders refused to ply here once it rains. Our children that go to school have fallen inside the flood. Besides, no vehicle can come into the street, but everything has changed recently when we saw bulldozer coming into the street to commence construction.
"We believe when completed it would boost economic activities of the people living there."
Another resident, Folashade Adeboye, who owns a property on the street, said it was the first time a functional road was being constructed in the street.
"I have lived here since 1982 and this is the first time that this road is being constructed. I am particularly excited because the value of our property will appreciate", Folashade said.