…As court shifts trial of defendants till Oct 26
By Ikechukwu Nnochiri
ABUJA—The Federal Government, yesterday, said it had intensified effort to arrest and extradite the immediate past Attorney-General of the Federation and Minister of Justice, Mr. Mohammed Adoke, SAN, back to Nigeria to face two sets of criminal charges over his alleged involvement in $1.3 billion oil bloc fraud.
Government said its decision to liaise with international security agencies to arrest the former Justice Minister, who has remained outside the country since he vacated office, followed his repeated refusal to surrender himself to the Economic and Financial Crimes Commission, EFCC.
Consequently, government lawyer, Mr. Johnson Ojugbane, persuaded the Abuja Division of the Federal High Court to adjourn Adoke's trial and others fingered in the Malabu Oil block scandal, till October 26.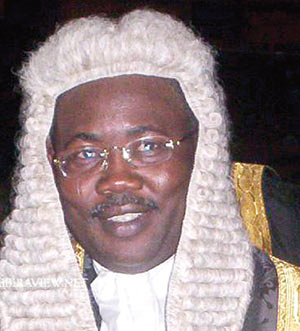 Trial Justice John Tsoho okayed the adjournment to enable the prosecution to produce the defendants to enter their plea to criminal charges pending against them before the court.
According to the Federal Government, Adoke, who served under former President Goodluck Jonathan, played key role in "a fraudulent deal" that saw the transfer of ownership of a disputed Oil Prospecting License, OPL, 245, to two multinational oil companies, Shell Nigeria Exploration Production Company and Nigeria Agip Exploration Ltd.
OPL 245 is regarded as one of the richest oil blocks in Africa. It was initially awarded to Malabu Oil & Gas Ltd in 1998 by late military head of state, General Sani Abacha, in a process the EFCC insisted was against all known government regulations.
EFCC told the court that investigations revealed that Malabu Oil & Gas Ltd secured OPL 245 through fraudulent scheme involving high scale bribery and corruption by top management of the company and some government officials.
Meanwhile, Adoke has since denied his complicity in the alleged crime, insisting that the Malabu deal preceded his tenure in office.
He maintained that the deal was brokered during the tenure of ex-President Olusegun Obasanjo with the Terms of Settlement executed by the then AGF, Chief Bayo Ojo, SAN.
He said the deal was concluded before ex-President Jonathan's tenure, who he said approved the final implementation of the Terms of Settlement.
Adoke said he only executed the resolution agreements since the implementation was situated in the Federal Ministry of Justice, saying he acted in national interest.
He urged the present AGF, Mr. Abubakar Malami, SAN, to reveal the truth concerning the Malabu deal.